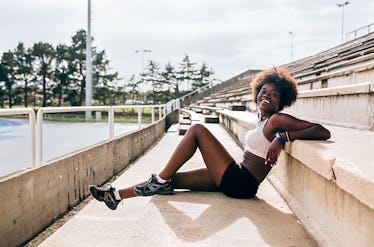 8 Little Changes To Make In Your Workout Routine That'll Help You Genuinely Enjoy It
Everyone has that one, fitness fanatic friend who legit springs out of bed first thing in the morning to hit up a cycling class, and actually enjoys it. TBH, I can barely resist slamming the snooze button to hop in the shower, let alone endure a challenging sweat sesh, so how the hell do they do it? It seems like what it really comes down to is finding ways to enjoy exercise that won't make you dread lacing up your sneakers each day.
You probably already know about all of the incredible benefits of exercising by now. From stress relief, to more energy and focus throughout your days, to improved sleep quality at night, staying active sounds like it should be a no-brainer, right? Well, in reality, it's more about the way you decide to sweat it out, and the workouts you choose to include in your routine, that will really take you from begrudgingly exercising because you know you should, to enthusiastically leaping out of bed to hit up your favorite workout class.
If you really want to fall in love with your workout routine, consider these simple tweaks to help you enjoy every second of your sweat sesh.