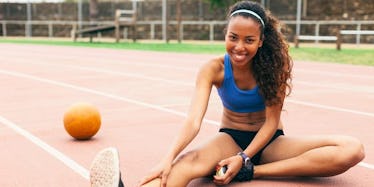 How To Find The Workout That'll Make You Commit To A Life Of Fitness
BONNINSTUDIO
We are officially 25 percent done with 2017.
Perhaps you, like the majority of Americans, made the New Year's resolution to eat healthy, get fit and start working out.
And perhaps you, like 92 percent of those who made resolutions, have not succeeded in making those goals a reality.
If exercising more was a goal of yours and you haven't been living up to the expectations, fear not because there is still time.
Now, I know you're going to say, "Time? What time? Timing is my biggest issue when it comes to working out. There is no time!"
I get it: You're busy. You have work, a social life and kids (maybe).
Overall, you have a bunch of other things to do instead of spending an hour of your day in the gym with a bunch of sweaty people.
But, you do have time. You just don't want to make it.
Want to know the secret to keeping up with your fitness?
You need to find an exercise routine you love and look forward to.
Once you find a fitness routine through enjoyment and an actual love for the activity, then — and only then — will you actually able to invest in your workouts while reaping all the great aesthetic- and performance-related benefits that come along with it.
So, here are four surefire ways to fall in love with fitness:
1. Experiment.
The number of ways you can choose to exercise is nuts.
But that's the beauty of it. So, try everything under the sun.
Make a fitness bucket list and mark one or two activities off that list per week.
To get you started off, here's what I think are today's most popular fitness options that you just might find interesting (in no particular order or preference):
- Martial Arts (MMA, muay Thai, Brazilian jiu-jitsu)
- Bodybuilding
- Weightlifting and powerlifting
- Running and sprinting
- CrossFit
- Yoga and pilates
-  HIIT classes
- Cycling
- Rowing
- Swimming
- Indoor and outdoor Climbing
- Dancing (hip-hop, Zumba, ballet and pole-dancing)
2. Mix it up.
The above fitness routines don't have to come in an "as is" basis.
For example, running can be done alone or with a dedicated group that gives you a push.
Bodybuilding can be done in sessions with your buddies.
And if you're hesitant about jumping head-first into, say, pole-dancing, you can build up your confidence by starting off with some sort of hip-hop class.
See where I'm going with this?
Another way to mix up fitness in ways that you'd enjoy is to play around with the level of the workout intensity.
If you're bored with long and tiresome gym workouts, you can incorporate high intensity interval training into your routine.
HIIT, other than being proven to increase cardiovascular capacity and burn more fat than traditional cardio workouts, has a short duration per class, with common HIIT workouts averaging at 25 to 30 min per session.
On the other hand, if you find yourself in need of relaxation in order in your life, you might find the gentle (or lack of) intensity offered in yoga and pilates classes a bit more to your liking.
Whatever you decide, remember, the only way you're going to look forward to a workout is if it's something you're excited to do.
Experiment with different kinds of exercises to know what gets you hyped.
3. Set a goal.
Once you've decided what your preferred form of fitness is, set a goal.
I'm not talking about a weight loss or aesthetic goal; I'm talking about a performance goal. This will add purpose to your workout and give you some added motivation to get up and get moving.
Maybe it's running your first mud race. Maybe it's deadlifting a certain amount of weight.
Maybe it's holding a certain arm balance in yoga for five breaths. The possibilities are endless!
With each workout, you'll be get closer to achieving that goal.
And from personal experience, I can tell you that there is nothing more satisfying than crossing that finish line, lifting that weight or holding that pose.
4. Make it part of your life.
It's time to stop thinking about fitness as something you have to do, and start thinking of it as something you want to do because it enhances your life and brings you joy.
Again, this will happen when you find the kind of fitness that works for you.
After a few months, you'll notice your workouts may start to creep into other parts of your life.
You'll start to make friends at the gym or in your run club.
Make your fitness friends your real life friends! There is nothing more important than community when it comes to maintaining your fitness.
And when you're surrounded by people who love the same kind of sweat that you do, it's easy to bring out the excitement for that workout together and keep the thrill (and love) of it alive.