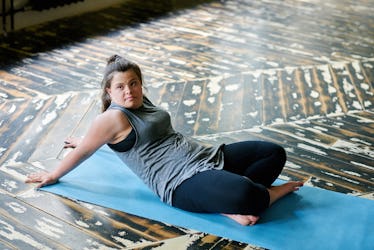 5 Workouts From A Yoga Teacher That'll Undo The Damage Of Sitting Down All Day
While I've had lots of of jobs that kept me on my feet all day, in recent years, most of my work is done in front of a computer, sitting down. Since lots of people spend their days like this, the question has arisen more than once: Is sitting down all day bad for you? And if so, is there any way to combat all the sitting we do?
Some people say "sitting is the new smoking," and other research seems to suggest it isn't quite as deadly as we think. Either way, I definitely notice that my butt, hamstrings, and lower back all tend to feel weaker, pretty crunched up, and heck, sometimes numb, whenever I spend hours upon hours sitting on my booty.
Luckily, Elite Daily had the opportunity to speak with Heather Peterson, chief yoga officer at CorePower Yoga, which is based in Denver, Colorado but has studios all over the U.S. She shares some really great exercises that help to undo all the damage and weakening that can happen to our bodies while we're hanging out in our chairs all day long, trying to bring home the bacon.
She says,
Sitting for long periods of time (as we all do during a regular work day) lengthens and weakens the muscles on the back of our body. At the same time, the front and center of our body (the classic core muscles) turn off and create a short and weak pattern.
These exercises target all those areas to create strength, and reverse those patterns that often result in low back pain or strain.
Yes, some of these workouts will be challenging, and they may or may not have had me screaming "Why?!" when I tried them myself. But if you have an interest in keeping your body strong and supple in the face of desk time, I highly suggest giving them a shot.
FYI: Two yoga blocks will be super helpful to have with you for a couple of these exercises.