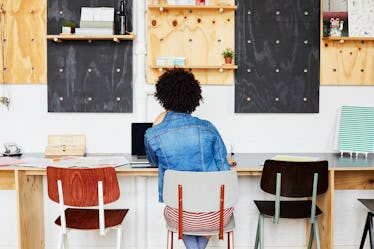 5 Moves You Need To Try ASAP If Your Back Hurts After Sitting Down All Day
Sometimes the best way to combat back pain from sitting all day is simply to find new ways to move. While walking, stretching, and gentle yoga are all definitely effective ways to combat lower back pain when you're stiff from sedentary life at the office or in school, sometimes you just need to figure out new ways to move your body that are going to get the blood pumping, the muscles stretched, and achieve the faraway dream of having a supple body that isn't so sore all the time.
Trust me, as a writer, I know how easy it is to get so lost in your work that you sit at your desk all hunched over like a gargoyle day in and day out, only to end up feeling like your back has taken on the permanent shape of a large letter C. The key to undoing that damage lies in finding enjoyable, effective ways to ease the stiffness and improve your posture.
Plus, not to sound like a PSA, but it's just as important to remember that getting up and moving throughout the day is crucial not just for your physical body, but for your quality of life, too. Macabre as it may seem, some research has shown that sitting as much as we do can actually shorten our life span.
So, give a few of these movements and stretches a shot if you're feeling like you need some fun, and hopefully feel-good physicality for the part of your body that takes a major beating from that chair life.