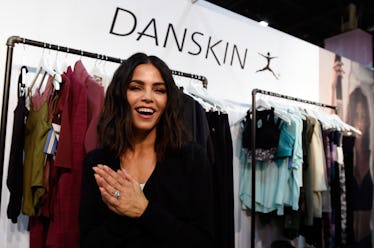 Jenna Dewan Tatum's Dance Workout Looks Like An Absolute Blast, So Here's How To Do It
David Becker/Getty Images Entertainment/Getty Images
When a workout is able to put a smile on your face, it's a pretty rare occasion, and those long-lasting, feel-good endorphins are literally like no other. By finding ways to love your workout, and to get totally immersed in how good it makes your body feel, working out stops feeling like a chore, and transforms into something you genuinely look forward to doing. Step Up actress Jenna Dewan Tatum's dance workout totally looks like one of those workouts that doesn't feel like "work" in the slightest. Seriously guys, I'm low-key a terrible dancer, but Dewan Tatum's dance-infused workout looks like an absolute blast and a half.
First of all, can we please talk about how unbelievably awesome Jenna Dewan Tatum's outlook on working out is in general? According to SELF, when it comes to anything fitness-related, Dewan Tatum's motto is, "If it's not fun, I won't go." Freaking preach, sister.
With that being said, when Dewan Tatum hits up her sweat sessions, SELF reports, it's a mix of strength training, cardio, kickboxing, and lower-body exercises — all to the beat of some kickass tunes.
Dewan Tatum's dance-inspired workout includes all the feel-good vibes, a healthy amount of sweat, and loads of fun.
According to Well + Good, Dewan Tatum's fast-paced dance workout was created by Los Angeles–based trainer Jennifer Johnson, who's a professional dancer herself (as is Dewan Tatum, in case the movie Step Up didn't clue you in on that). TBH, the workout not only looks like an amazing time, but it even looks pretty challenging. Real talk: I kind of want to move to Los Angeles now, just so Johnson can kick my butt with her entertaining workouts. Anyone else?
Luckily, you and I can stay put in our own homes (for now), because SELF broke down the dance workout that Dewan Tatum swears by. Johnson told the publication that the first two to three songs on the training playlist that she puts together for Dewan Tatum's sessions are dedicated to warming up the body and beginning to increase heart rate.
After that, they'll transition into a hybrid of kickboxing and dancing for an entire song (Johnson told SELF it's "like kickboxing with twerking in it," and guys, I'M SO HERE FOR THAT). The next two songs are purely lower-body work, with some good ol' squats, lunges, kicks, and jumps sprinkled into the overall dance-y vibes.
Before they finish, Johnson walks (or, um, dances?) Dewan Tatum through various back-strengtheners and arm workouts, along with some core work (including those V-ups with sliding discs, as shown in the Instagram video above).
And then, finally, the two take time to cool down. Whew. Honestly, I broke a sweat just giving you guys the rundown, but I also high-key am definitely going to try some of Dewan Tatum's workout for myself now.
Dewan Tatum's workout is fun and unique because, rather than mindlessly cranking out moves that will strengthen her body, she gets to move to the beat of the music and have an amazing time in the process.
Women's Health reports that dancing in your own workout routine can help your body produce tons of mood-boosting chemicals that not only make exercise more enjoyable in the moment, but can also benefit your mental health in the long-run.
And yes, there's actually some science to the whole thing: According to a 2014 study published in the journal The Arts in Psychotherapy, dancing — preferably in your room, in your underwear, while singing into a hairbrush, because duh — has the power to instill positive changes in people who have depression.
So, what are you waiting for? Dance it out, girl!