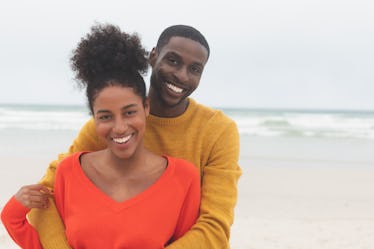 Stressed Much? Try These 8 Expert-Approved Bonding Tips For Couples
Shutterstock
When one partner is stressed in a relationship, the other can often provide support, encouragement, and love to help them get through it. But what happens when both partners are going through a difficult time? How can two people be there for each other when each is dealing with their own fears, worries, and responsibilities? It's an important question — and one that has become more relevant than ever amidst the coronavirus outbreak. That's where certain relationship bonding tips can come in handy. As you and your SO begin to grapple with job changes (or perhaps a loss of work), fewer opportunities for socializing, and other concerns, you can de-stress together. The experience can even bring you two closer than ever before.
According to Melissa Divaris Thompson, a holistic licensed marriage and family therapist who specializes in working with young couples, when both partners are under stress, they tend to have less patience, meaning they're far quicker to snap at each other. They may even start assuming the worst about each other's intentions, actions, and behavior (rather than giving their partner the benefit of the doubt), thus breaking down intimacy and trust.
"When these cycles continue, it wears away at the fabric of your relationship — it starts to tear and pull," she says.
If this sounds familiar, you're not alone. Dr. Mary Kay Cocharo, a licensed marriage and family therapist, tells Elite Daily that many of her clients — even in the strongest relationships — are bickering more than ever now that they've been forced to adjust to new living and working conditions.
"It takes conscious awareness to stay loving and kind, to accept each other and to celebrate our differences," she explains. "During a crisis, your emotional brain can hijack the thinking brain, and you go from responding lovingly to reacting."
Fortunately, experts agree that it's totally possible to break out of this harmful cycle and make room for more empathy and intimacy. Here are their go-to strategies for managing the stress as a team, while also feeling closer than ever before.