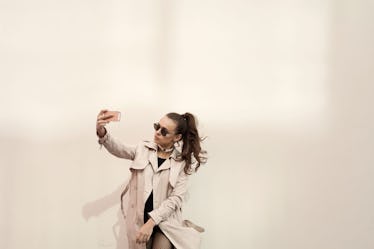 If You're Usually Glued To Your Phone, Here Are 10 Easy Ways To Start Using It A Little Less
Let's face it: Most people are pretty attached to their phones at this point. The majority of us leave our phones on the table at dinner, take them to every workout, and we even spend time talking to friends via text and social media when there's literally a physical human being right in front of us to interact with. If you're starting to get sick of how often you check your phone, then it might be time to consider some easy ways to use your phone less, so that you're, you know, a bit more aware of what's going on around you.
The use of phones in the world have worked simultaneously to connect and separate people from one another on a daily basis. You can FaceTime your mom from across the world, but you also might not be able to get through a full meal with a friend IRL without glancing at your phone to check for texts or scroll through your Instagram feed. And though your relationship with your phone should be one that reflects your own personal needs and desires, it's pretty unlikely that feeling a compulsion to check your phone every 10 minutes is really an ideal way of life for you.
Here are 10 quick, easy tips to help you break your phone-checking habits and spend less time staring at screens.