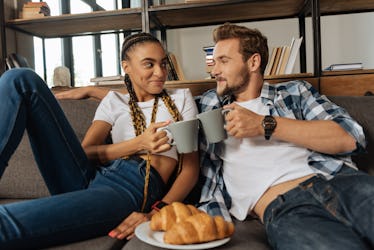 Isolating With Your Partner? Here's How To Get Through It Together
Shutterstock
For couples who don't live together, coronavirus has presented quite the conundrum. Public health officials have been strongly encouraging people to self-quarantine during this pandemic, which means it's time to ask yourself: Am I ready to share a living space with my SO? While cohabiting can certainly strengthen your bond, living together for an indefinite amount of time also presents new challenges to your relationship. Fortunately, experts have a slew of helpful tips for isolating with your partner that can help you to navigate all of these challenges in a healthy and productive way.
Moving in with your partner is already an adjustment on its own. Not only will you need to get used to each other's routines and potentially irritating habits (why, you wonder, do they never close the cabinets?), but you'll also have to start sharing new responsibilities (like chores and cooking). Now, add in a steady stream of stress relating to the coronavirus outbreak, and you've got even more considerations to take into account.
It's worth noting that relationship experts typically don't advise moving in with a partner out of necessity alone (to save on rent, for example) — it's best to have another reason for taking this step, like strong compatibility and shared goals for the future. However, coronavirus has presented unusual circumstances, so it's understandable why some couples are choosing to take this step to co-isolate before they might feel totally ready to be long-term roomies.
All that said, isolating with your partner has plenty of perks, too. On the obvious front, you have a perpetual snuggle partner during this distressing time. Not to mention, sharing a living space for a short period of time is a phenomenal way to test out the roommate sitch before you actually sign a lease together.
Just be sure to keep these co-isolation tips in mind for ensuring a smooth transition and a supportive environment from start to finish.