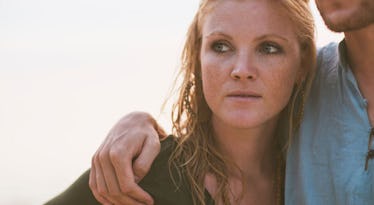 How To Ask For More Space In Your Relationship, Because It's Not Always A Bad Thing
Showing someone how much you love them is so important to the success of a relationship. But loving your partner and smothering your partner in that love are two totally different things. It's pretty safe to say that everyone needs space once in awhile, and knowing how to ask for more space in your relationship is a useful skill to have — particularly if you don't want to hurt your SO's feelings.
"It is natural to need space in a relationship," sex and intimacy coach Irene Fehr tells Elite Daily. "We have two competing needs that collide in a relationship: the need to be individuals and the need to be in relationship or connection with another human being; to be ourselves and to belong," she explains. "Both nourish and feed each other. When we're supported by partners, we feel safe to be ourselves. And when we're ourselves and have our individual needs met, we're better partners. It's natural to need space to meet our individual needs — moreover, it's critical to a healthy and thriving relationship."
So, how can you approach this topic with your significant other without hurting them? Well, there are definitely some effective ways to go about it. Here's what relationship experts recommend.