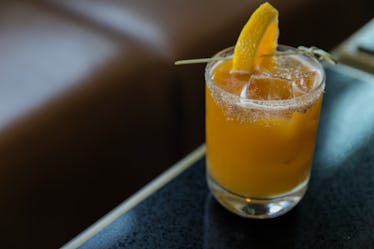 7 Pumpkin Cocktails To Make This Thanksgiving If You & Your Squad Aren't About The Pie
Personally, I find it so satisfying to pierce a fork through the seasonal decadence of pumpkin pie when I'm winding down after the hustle and bustle of a Thanksgiving meal, but not everyone loves flaky crust and fluffy filling (more for me!). If your potluck is anti-pie, a spiced, boozy beverage for dessert is still a great way to end an evening of indulgence. If your crew prefers pumpkin spice sips over slices, save the pie for another time, and whip up any of these easy pumpkin cocktail recipes instead that'll have your squad in awe of your bartending skills.
This year, rather than toasting with wine or a glass of sparkling cider, insist that your besties raise their glasses to all the little blessings they're thankful for with an autumn-inspired cocktail. Of course, choosing a spirit that will please the entire table can be tricky, but I don't know many people who are opposed to chewing or sipping pumpkin-flavored delicacies around the holidays — do you?
Sure, pumpkin beverages can be a bit of an acquired taste, but they're only getting more and more popular with each passing year. Perhaps it's because the sweetened taste embodies everything fall-themed, or the fact that PSLs are always Insta-worthy. Whatever the reason, you can't go wrong mixing and mastering any of these pumpkin-flavored cocktails for Thanksgiving.