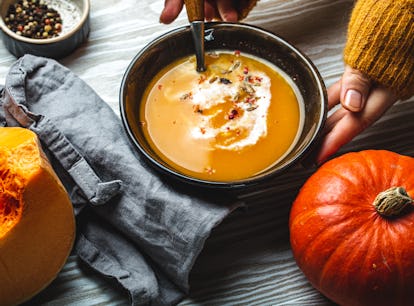 TikTok Loves These 20 Pumpkin Recipes That'll Transform Your Fall Meal Routine
Transform your jack-o'-lantern guts into a festive fall feast.
Elena Yeryomenko / 500px/500Px Plus/Getty Images
As the leaves turn to vibrant colors and a crisp breeze blows in, you can almost smell the pumpkin spice in the air. It's the ideal time of year to enjoy the huge pumpkin harvest, whether you prefer pumpkin in your coffee or your pie. The bright orange squash is super versatile in cooking, and makes up cozy, hearty meals that hit the spot as the days grow colder. Check out these 20 creative pumpkin recipes from TikTok that feature the star ingredient of the season.
You're likely already planning a trip to the pumpkin patch to carefully select the perfect pumpkin to carve for your jack-o-lantern on Halloween. You can almost smell the pumpkin pie, as if it were freshly baked and the sweet and spicey aroma is wafting from your oven. You can turn pumpkin into tons of different delicious and festive dishes to take you through breakfast, lunch, dinner, and dessert, with warm flavors and creamy textures. After you empty your pumpkin to use the pulp in recipes, remember to save the seeds too for roasting or to blend into a creamy butter you can spread on soft pumpkin bread.
Autumn calls for a recipe revamp, where you can embrace all the fresh seasonal produce and celebrate the flavors of the season in new ways. Whether your pumpkin craving leans sweet or savory, you can definitely find a fun and festive TikTok recipe that'll keep you satisfied all the way through November. Challenge your cooking game this fall and set out to try some new meals using pumpkin, because there's no shortage of recipes and ideas to choose from. Throw on your apron and bookmark these 20 fall recipes that feature gourmet uses of pumpkin from TikTok that you can make at home.
This article was originally published on