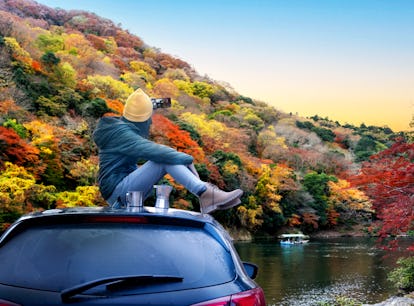 Here's Where To See Fall Foliage This Year For The Ultimate Leaf Peeping Vacay
This view and a pumpkin spice latte are all I need.
Patchareeporn Sakoolchai/Moment/Getty Images
One of the most magical things about the fall season is watching the leaves turn into gorgeous golden hues of red, orange, and yellow. It's as if the whole landscape is welcoming you into the coziest time of year, calling you to sip on a warm pumpkin spice latte as you breathe in the crisp autumn air. Taking a road trip down the scenic route to a charming town is the best way to experience the lush foliage in October and November, and there are so many leaf peeping places to see before the leaves fall to the ground for good. Keep scrolling to uncover gem destinations in the U.S. and the best places to see fall foliage in 2022.
Whether you love scaling a mountain hike to catch an epic view of the landscape, driving down a scenic highway, or simply chilling on a quiet bench under the bright leaves, it's important to plan your fall foliage tour with perfect timing for catching all the colors. These special leaf peeping spots in the U.S. start turning orange at different times in the season, depending on their location like elevation and proximity to water. It's ideal to anticipate an October road trip through the leaves, where you can stop at an apple orchard or pumpkin patch along the way as Halloween creeps up.
Fall is basically here, so throw on your flannel, dust off your hiking boots, and start planning your outdoor excursions before the frigid cold blows in for winter. There's only one sweet spot in the year where the country's landscape is set ablaze by a warm blanket of color, so head off on a weekend to one of these spectacular spots to see fall foliage in 2022.