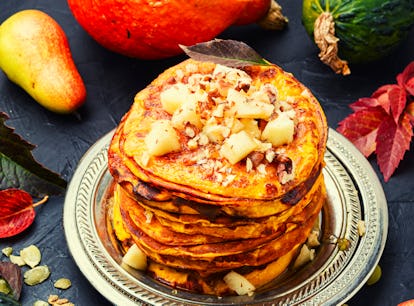 TikTok Loves These Easy Fall Breakfast Recipes That'll You'll Want To Add To Your Routine
A delish fall dish for each morning of the week.
Mykola Lunov / 500px/500Px Plus/Getty Images
The leaves on the trees are starting to change and fall is finally arriving to spice up the season. As summer sadly comes to a close, a new start blows in with the crisp autumn air. Work and school will come back into focus, along with a new morning routine. Making a satisfying breakfast before a busy day can be daunting, especially if you're low on time and want it to be as nutritious as possible. Luckily, the foodie side of TikTok has got you covered. Keep scrolling to see 10 fall breakfast recipes from TikTok that are easy to make and packed with festive fall flavors to get you in the spirit of the season.
This list of spicy, sweet, and savory breakfast recipes can all be whipped up the night before or in the morning with just a few steps. On cold mornings, it feels like a treat to enjoy a cozy fall breakfast like pumpkin spice baked oats or gooey apple pie cinnamon rolls before you head off on your busy day. These breakfast recipes, like carrot cake pancakes and a harvest protein salad, are satisfying jumpstarts to fuel your day that will feel like an extra dose of self-care.
If you go apple picking this fall, make sure to set aside some for your mornings over some chia seed pudding or on toast with nut butter. There are so many flavors and food possibilities in the fall, so try out these delicious breakfast ideas from TikTok you can throw together and enjoy before heading out the door.
This article was originally published on