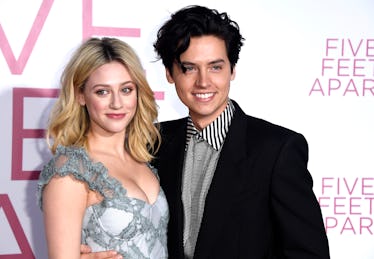 These Astrologically Compatible Celeb Couples Are Matches Made In Heaven
Frazer Harrison/Getty Images Entertainment/Getty Images
Even if you don't totally buy into the whole "horoscopes" thing, the most astrologically skeptical person might still be able to recognize that some couples seem like they were made for each other. There's a reason Blake Lively and Ryan Reynolds scream "love" on the red carpet, and why Prince Harry and Meghan Markle always seem so in-sync. It was written in the stars, folks. Astrologically compatible celebrity couples have a vibe that can't be denied.
While astrology isn't an actual science, zodiac signs can often help give you perspective into people's personalities, behaviors, and goals. A couple's individual zodiac signs can offer some insight into their relationship dynamic when studied as a unit. Some people can really gel together well because their zodiac sign complements their partner's. For example, maybe one person is an extrovert and exudes BDE, while the other partner is a bit more quiet and likes to observe before making their witty remark. It's an "opposites attract" situation, if you will. Those partnerships work out well because each partner can bring something different to the table, whether that's spontaneity, fearlessness, rationality, or simply chill.
Other times, couples are astrologically compatible because their signs share the same element, whether it's air, water, earth, or fire. Signs within the same element (like Taureans and and Capricorns, or Cancers and Pisceans) can feel like they're torn off the same vine, and TBH, they kind of are. Their similarities can feel universally designed. Below, seven celebrity couples whose star signs really shed some light on what astrological compatibility looks like.