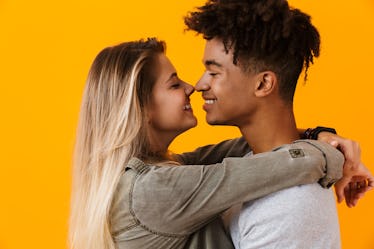 4 Zodiac Signs Who Are Most Compatible With Sexy & Secretive Scorpios
Shutterstock
I've got to give a shoutout to my Scorpio friends. This mysterious, protective sign is just the person you want on your team, and TBH, they're my go-to pals when I need to vent about drama. Scorpios know how to keep secrets, and their sharp intuition makes them super adept at understanding the truth. They're also loyal partners when they fall in love, although they won't open their hearts to just anyone. The zodiac signs who are most compatible with Scorpios can have an amazing connection once they break down this water sign's chilly exterior.
If you're lucky enough to be dating a Scorpio, you know just how intense and fulfilling a bond they can form with their partner. Scorpios, who are born between Oct. 23 and Nov. 22, are extremely guarded and cautious when it comes to relationships. They're known as the most sexual zodiac sign — but don't mistake this for a desire to get it on with just anyone. A Scorpio wants to form an all-consuming, passionate connection with their partner, which includes having super hot sexual chemistry. But they won't mess around with anyone who might take them for granted.
When paired with one of the following signs, Scorpios can truly open up and fall in love.