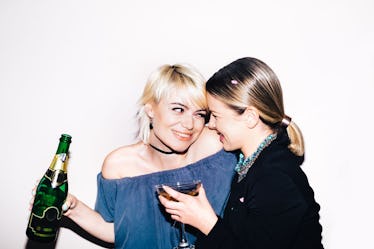 6 Birthday Date Ideas That Are Way Better Than Dinner, Because It's A Special Occasion
Birthdays only come around once a year — twice for those who celebrate their half-birthdays too. It's a special day to enjoy with friends, family, significant others, and everyone and anyone who wants to celebrate you. Birthdays are special, and they're the perfect excuse to go out and celebrate. If you or your special someone is turning another year wiser, consider one of these cool birthday date ideas that aren't just dinner, to really get your celebration on.
Now, don't get me wrong: There's nothing wrong with dinner. Dinner's good. You know what spots to hit and what to order and the waiters know you by name. Dinner gets the job done. But wouldn't it be nice to switch it up one year with something a little more festive? Instead of going to the same dinner spot that you've been to on every special occasion, it might be fun to do something different next time around. Doing something with bae for either of your birthdays that you don't usually do is an awesome way to get out of your usual routine and spice things up! It's a win/win. And hey, if one of these six birthday date ideas doesn't work out, there's always next year. What have you got to lose?