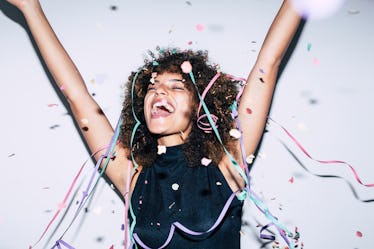 10 Things You'll Only Understand If You're Obsessed With Your Birthday Month
Your birthday is a day that revolves exclusively around you — but if you think 24 hours isn't enough time for commemorating your life, you celebrate your entire birthday month. From start to finish, you are living it up. No matter what age you're turning, this month was the beginning of your fabulous presence on this Earth. (Thanks, Mom!) If you're obsessed with your birthday month, the fun just keeps on coming, and you're here for it.
Sure, you might confuse people who are just getting to know you, because they won't be able to determine which day of the month is actually your birthday. Eventually, they'll be up to speed with the fact that you fist pump and eat confetti cake throughout the entire month. I mean, why shouldn't you? It's your party, and you can rage as long as you want to.
You're enjoying your life to the max, and if that means decking your apartment out in balloons and streamers for the month, then so be it. No one can ruin your birthday mentality unless you let them. You've been celebrating it this way for so long, there's no chance of anything breaking your stride now. You only get one birthday month, after all. So, if you're high-key obsessed with this very special time of the year, you know these 10 things to be all too true.