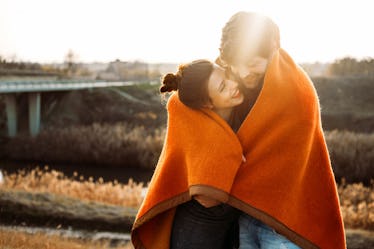 7 Gorgeously Festive Fall Date Ideas That Don't Cost More Than $20 Per Person
Fall is here and there really isn't a better time to ~fall~ even more in love with that special someone. Autumn is a great time for some really cute dates with your sweetheart. Here are some cheap fall date ideas that will be fun for you, your partner, and your budget. There are so many great options when it comes to doing something romantic together in autumn and a lot of them are pretty dang affordable.
If you're stumped on what to do for a date this fall, consider getting outside and simply enjoying the sights and scents of the season. If you'd prefer a tasty treat try fall-specific foods that only come out to play during this time of year. There's so much fun to be had, especially when you consider Halloween as well. Marathoning different categories of scary movies throughout October could be a great (and low-cost) way to get into the spooky spirit of the season.
Another way to make sure you squeeze in some affordable dates this fall is to be open to spontaneity. For instance, if you're driving along the countryside and you see a pumpkin patch or sunflower field — carpe diem! Dates don't have to be planned way in advance to be fun and romantic. If you want more ideas for affordable dates with your bae this season, check out the following tips!