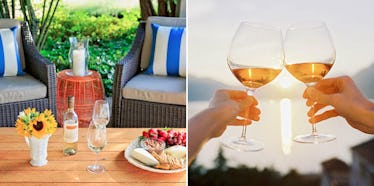 These Wine Experiences Are Literally Only $1, So Sip, Sip, Hooray
There's so much to wine about at all times. We start sipping on our favorite rosés when we want to celebrate, or it's been a really long week at work, and a glass of chardonnay sounds so refreshing. Breaking out a bottle for your bestie's birthday is so necessary, and you'll track down a merlot for making all of those sweet memories. On Friday, May 25, it's National Wine Day, which gives the whole world a reason to celebrate. You could go to a winery with your girl crew, or you could book one of these cheap wine experiences, that are literally only $1. Yes, you heard that right. Sip, sip, hooray, I'd say.
Wanderlust and wine, what could be better? Those two things together form an unstoppable duo, and also everything we need in our 20-something lives. On the weekends, you may be chasing adventure and having grape times already. But, don't you get bored always buying the same labels? Living your best life requires booking trips and experiences you'll be talking about for years to come.
Several Airbnb hosts throughout the U.S. will be marking down their wine experiences to only $1, which means that you need to gather your girls ASAP. The deals are a limited-time opportunity, but truly every wine lover's wildest dream come true. Connecting with experts and touring wine country just got a whole lot cheaper. I like the sound, and taste, of that.
What kind of wine experiences are going to be offered for $1?
Have you ever heard of anything wine-related that was only $1? Me neither, but this National Wine Day, there are at least a few experiences you can book, no matter what coast you're on. Yes way, rosé.
The deals include: a wine tasting in Boston, MA with a certified wine expert, a hiking wine tour in the Dundee Hills of Oregon, a mountain winery tour in Virginia, a taste of D.C.'s wine country, in addition to a tasting and lesson on Oregon wines.
From personal experience, I can tell you that the Pacific Northwest should be on your bucket list this summer. Heading to Portland, OR and learning about this history of its wines may not be the first thing that comes to mind. I mean, it's summer vacation, so why would we want to be schooled? But, tasting the wines and seeing the process behind their production will actually be a really rad way to get in touch with your glass.
Remember, these experiences are a limited-time offer so you'll want to book something ASAP. These experiences are happening on May 26 and 27, which is less than a week away.
What other wine offers are on Airbnb?
Wine makes the world go 'round, in my personal opinion. So, there's truly no shortage of wine offers out there. Sure, they're not all going to be just $1, but Airbnb has experiences that will still make you want to stop and smell every single rosé. *Does fancy sniff test like a real wine connoisseur.*
You could rent a room in a vineyard home in California, settled right in the middle of wine country. Seriously, this spot features over 30 wineries within a 5-mile radius, and you'll be wondering how in the world you're going to pace yourself while checking out every one. You could also cozy up in a cottage in Cape May, NJ, and take in the views of gorgeous vineyards and gardens nearby.
If booking a place to stay for a night doesn't sound like something you want to do, then wine tastings with jazz musicians in San Francisco might be more your style. They say wine and cheese is a perfect pairing, but there's nothing like a little Louis Armstrong on the side of a riesling.
How else can you celebrate National Wine Day?
If the $1 deals don't strike your fancy, or you just can't get away on Memorial Day weekend due to other plans, then you're likely looking for other ways to celebrate National Wine Day. After all, you wouldn't want to skip out on an opportunity to sip on something fruity and full-bodied. Lucky for you, there are some simple ways you can still make the most of the holiday.
Grab your besties, or the girl who always drinks rosé, and hit up happy hour at a local restaurant. You could also buy a bottle on your way home from work, and have a movie night full of snacks and romantic comedies. Even doing a DIY craft with all of the corks you've collected could be a unique and artsy way to celebrate with your crew. Truth is, you don't necessarily need to book an entire wine experience to show your cabernet a little love, but these deals are still pretty cheap. So, consider it, OK?