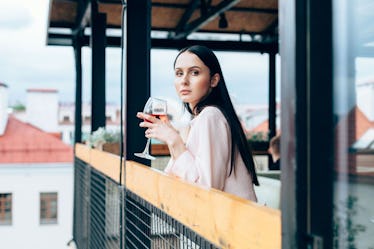 The Girl Who Always Drinks Rosé Wants You To Know These 7 Things
Stop and smell the rosé, am I right? You can likely think of at least one person in your crew who can't get enough of the drink. She's over 21, of course, and will pour herself a refreshing glass after a long day at work, or to kick off girls' night on the right note. The girl who drinks rosé can be misunderstood, though. You might assume she's a little basic, and I'm sorry to say, that couldn't be more wrong.
You had me at merlot, but this girl isn't so easily convinced. She has such a vibrant spirit, and can get along with just about anyone in a crowd. Is she a Leo, or maybe a Gemini? For this one, let's put the star signs aside. What she's sipping on is much more important.
Out of all of your friends, she's probably the one who always manages to find herself in the center of a social situation, but loves her alone time as well. She watches sitcoms, and keeps the mood lighthearted. Dealing with drama just isn't her style (we'll leave that to the tea drinkers out there.) She'd rather have a good time with her girl crew than cause such a fuss. These seven things are all too true, so don't make any other assumptions simply because she loves rosé.