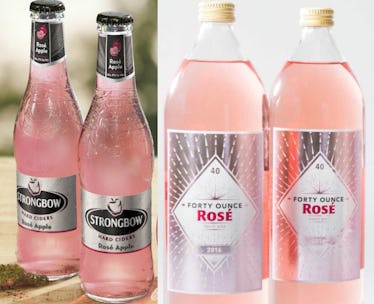 All The New Pink Drinks You Can Get This Spring, Ranked
As the days grow longer and the freezing temperatures of the winter are (mostly) in the past, you might think about changing your usual happy hour order to fit the new season. You can trade your mulled wine and spiked apple cider for more fitting beverages that complement the sunshine and warm spring days ahead. It's always fun to think pink when it comes to choosing a springtime sip, and thankfully there is no shortage of delicious (and Instagram-worthy) options from which to choose. Here are six rosé drinks available this spring that will make for the prettiest pink sips this season (if you're 21 years or older).
Given that rosé season is almost as well known as the meteorological seasons by now, you probably already have a go-to bottle you crack open with your besties as soon as mild spring evenings become the norm. As the pink wine becomes more popular, though, there are new twists on the tasty wine that you know and love. Of course, you don't have to give up your tried-and-true favorites for one of these new incarnations of rosé, but you can give them all a taste this season — and you just might find a new favorite sip.