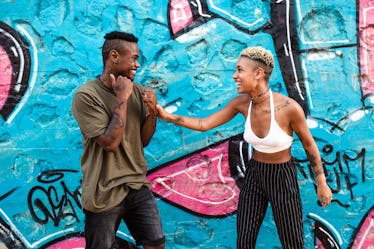 9 First Date Ideas That Don't Involve Food, Because TBH, There Are So Many Options
Let's face it: First dates are a lot. They're nerve-wracking, they're fun, they can be the most boring thing in the world, or the most exciting time you've had in ages. How fun they are (or aren't) usually depends on who you're with and what the two of you are doing. Plenty of first dates include dinner (which is great, don't get me wrong), but there are a slew of first date ideas that don't involve food that can easily make your next one your best one.
Now, dinner and a movie have stood the test of time when it comes to first dates. So, why change a good thing? Because you can. There's nothing wrong with sticking to your go-to first date, but switching it up could result in the best first date you've ever been on. Not to mention, by embracing the endless cool date ideas out there, you can also lessen the anxiety that often comes with a first date. Think about it: If you're out with someone for the first time, and you're doing something other than sitting across the table from each other being forced to talk, you can both throw yourself into whatever activity you agreed on. And voilà! So much less pressure. When your next first date comes around, consider doing one of these nine things.