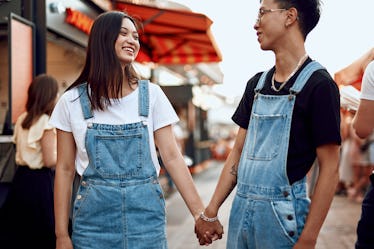 5 Personality Types Who Are Respectful AF On Dates, So Consider Yourself *Blessed*
Shutterstock
You can tell a lot about someone by how they treat you on a date. There's lots of little things they might do to win you over — like thoughtfully planning out an itinerary, remembering your favorite drink and ordering it before you arrive, or footing the bill. When it really comes down to it, however, the most important thing is that your date shows consideration for your thoughts and feelings. Sound like a dream? Then keep a lookout for these Myers-Briggs personality types who are the most respectful on dates.
There are a couple of trait preferences that can come in handy here. Intuitive Feelers (NF) have a knack for reading people, and by quickly and accurately perceiving how their date is feeling, they have a leg up in being more respectful to their needs. Sensing Judging (SJ) types, who tend to be a bit more formal in their dealings with others, value duty and responsibility — in a word, they're polite AF.
Remember, different personality types can be respectful in their own ways. For example, an ESFJ, which notoriously takes on a caregiving role, may be immensely respectful in many facets of dating — except that sometimes gives them a poor sense of their partner's personal boundaries. The same goes for ENTPs and ENFJs, except when they sometimes push their partners too hard in regards to self-improvement. The point is, there are numerous ways to show that you're respectful in the context of dating.
All that said, if you're oh so over dates who constantly check their DMs, leave you on read, or totally disregard your opinions, then keep these personality types on your radar.