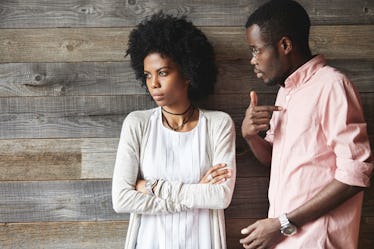 20 Pet Peeves In Relationships You Might Actually Be Able To Overlook
Shutterstock
Yes, it would be absolutely fantastic if your significant other just somehow managed to absolutely never annoy you. But that's just not usually the case. Even in the best relationships, it's inevitable that your partner is going to do one thing or another to get on your nerves sometimes. Having pet peeves in relationships is totally normal. Actually, it's so normal that women in a recent Reddit thread came together to share the less-than-lovely traits their partners have that they choose to ignore.
Yep, you read that correctly: ignore. I mean, let's weigh out the options here. On the one hand, you could pick a fight with your partner every single time they chew their pasta in that cringe-y way that makes you want to wear noise-canceling headphones. But is anything good really going to come from that? Probably not. Instead, you can choose to ignore the weird chewing and, instead, save the fight for something that actually matters.
Now, this isn't to say that you shouldn't say something if the annoying thing your partner's doing is really bothering you. If you're really, truly upset the best thing you can always do is just sit down and talk it out. But if you're just slightly annoyed by something totally harmless, then maybe it's time to pick your battles.