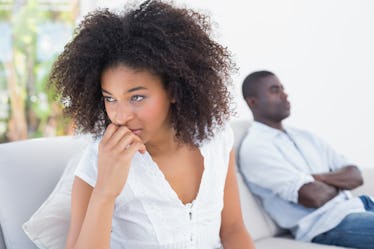 Here's How To Tell Your SO You Don't Feel Respected Enough
There lots that goes into a healthy relationship, like communication, empathy, and, of course, mutual respect. If you've ever been in a relationship where you don't feel respected enough by your partner, then you probably know that without respect, every other part of your relationship feels pretty moot. But what does being respected by your partner really mean? According to Dr. Gary Brown, a prominent couples' therapist in Los Angeles, respect is evident in how your partner treats you. "If your partner truly respects you, they are proud to be in a relationship with you," Brown tells Elite Daily. "They speak well of you when with others, whether you are in the room or not. Your partner likes to brag about your accomplishments."
For Michelle Henderson, a licensed mental health counselor, respect is all about following the golden rule. "Respect means treating someone the way you would like to be treated," Henderson tells Elite Daily. "It means honoring your partner's thoughts or opinions (even if you disagree)." Henderson adds that it's totally appropriate to expect respect from your partner, and to be treated accordingly. "A healthy, respectful relationship is filled with both people showing each other love through touch, words, and actions regularly. Doing this indicates respect, caring, and concern for the other person," she says. Both experts agree that if this isn't the current dynamic in your relationship, you should consider addressing it with your partner. But talking about something like this can be challenging, so here's what they recommend when bringing it up.