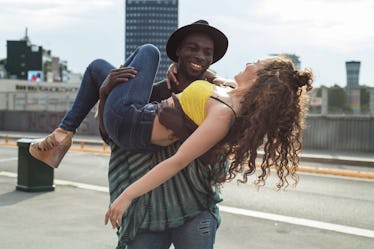 These Are The Signs Your Partner Respects Your Boundaries, According To Experts
We all know that boundaries are really important when it comes to healthy relationships. It feels good to know that the person you're dating cares about you enough to acknowledge and respect your boundaries. They're the lines you cross in the sand — the ones that indicate how far you're willing to go, emotionally, physically, and anything in between. If you recognize the following signs your partner respects your boundaries in your bae, they're a keeper.
But, if you feel like your partner isn't respecting your boundaries, the most essential thing you can do is understand your own needs, and then sit your partner down and talk about what you think is missing. "It's important to be self-aware. Take some time to consider what needs you have and why these matter to you," Blush Life Coach and licensed therapist, Joanna Townsend, tells Elite Daily. "It's vital that you engage in self-understanding and recognize that you, too, are responsible and have to take ownership for yourself and how you're showing up for the relationship. Then, work on communicating your boundaries to your partner. Remember that your partner cannot read your mind or always know what you need." (Oh god, how I wish my boyfriend could read my mind sometimes.)
I spoke to a couple of experts to understand some of the signs your partner respects your boundaries. Here's what they had to say.