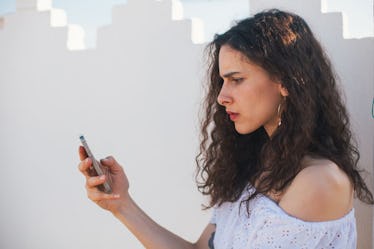 A Therapist Gets Honest About 5 Signs Your Partner Doesn't Fully Respect You
Respect is the most important aspect of any healthy relationship, period. When you and your partner respect one another, you can communicate openly and honestly. With mutual respect comes compromise and productive problem solving. So, if you suspect that your boyfriend or girlfriend doesn't respect you, that's a huge red flag. Not only do you deserve a significant other who thinks of you as his or her equal, but a disrespectful partner can also be a potential warning sign of future emotional or physical abuse. If this seems to be the case, try opening up to your partner about how you feel — if they love you, they will most likely work to change their behavior.
Remember that if your partner does exhibit disrespectful behavior from time to time, that doesn't necessarily mean they're trying to hurt you. They may not realize how their actions impact you. Before you assume the worst, talk to your significant other about how you feel. Give them a chance to hear you out and work on correcting their behavior. If your partner continues to act in a disrespectful or controlling manner even after you talk, it may be time to reevaluate your relationship.
I spoke to Sara Stanizai, a licensed marriage and family therapist with expertise in couples therapy, anger management, intimate partner violence, and domestic violence assessment and treatment, about signs that your boyfriend or girlfriend doesn't respect you, and what to do if you feel like your partner is being disrespectful or controlling. Here are the five red flags that she recommended looking out for that could indicate if your significant other doesn't respect you.