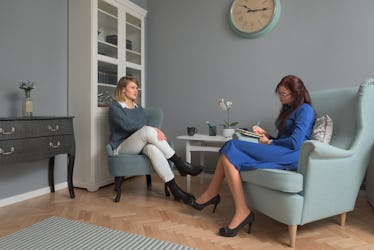 How To Convince Your Partner It's Time To Give Couples' Therapy A Shot
If you're experiencing problems in your relationship that you just can't seem to work through on your own, you might consider going to couples' therapy. Bringing up the concept of therapy with your partner can be scary, especially if you've never seen a therapist (either individually or together as a couple). If you find that your significant other is resistant to the idea, initiating this conversation could be tough. When you're ready to discuss the possibility of consulting with a professional, but you're not quite sure how to talk about couples' therapy with your partner, don't panic. There are a few steps you can take to help your S.O. understand why you think therapy is a good idea, in a clear and non-confrontational way.
In the event that they need a little extra push in the right direction, gently remind them that this doesn't mean your relationship is over. In fact, the earlier you two commit to couples' therapy, the better the outlook will likely be. The longer you wait, the more problems build up, and the harder it becomes to work through the long-ignored issues. I spoke to a couples' therapist about the best strategies for convincing your partner to give couples' therapy a try. Here's what she had to say.