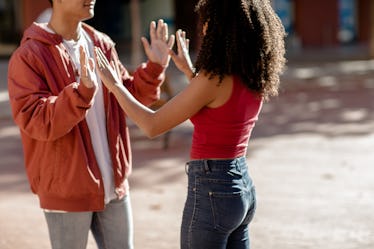 5 Relationship Problems That Mean You Should Consider Going To Couples' Therapy
If I relied on everything I learned from romantic comedies, I would be convinced that after one week of dating is exactly when to try couples therapy. That's when Kate Hudson's character, Andie Anderson, dragged her new boyfriend, Benjamin Barry (played by Matthew McConaughey) to a couples therapist in How To Lose A Guy In 10 Days. To be fair, it was Barry who first suggested they try couples therapy after an explosive argument about Andie's coming over on guys' night.
If you don't remember the premise of the movie, it's like the name suggests. Anderson sets out to chase a guy away in 10 days as experimental research for her job, while Barry makes a bet with his coworkers that he could make her fall in love with him in the same amount of time. Under normal circumstances, they probably would have waited a bit longer before seeking the help of a couples therapist.
According to psychotherapist Jeffrey B. Rubin, Ph.D., who has worked extensively with couples, the best way to know if couples therapy is right for you is to try a session or two with a therapist you believe is caring, empathic, and insightful. He explains that it's especially worth considering if you've experienced one or more of these relationship problems with your partner.