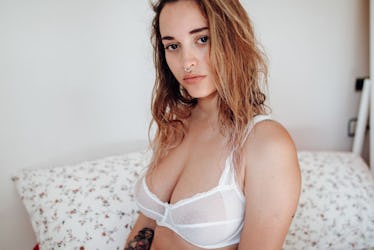 5 Common Misconceptions About Female Sexual Pleasure, Busted By A Sexpert
Popular culture and the media are filled with mixed messages about sex. Songs and movies often emphasize how mind-blowingly awesome it can be… but at the same time, quality sex education is severely lacking in the United States. As a result, misconceptions about female sexual pleasure are common, and it can be difficult to know where to turn to find accurate information about your body and your sexuality.
Sadly, there's a lot of unreliable information out there. According to Planned Parenthood, only 13 states in the United States require that sex education be medically accurate, and 26 states don't mandate sex education at all — which leaves it up to individual school districts to decide what to teach. And even when the facts are correct, sex education almost never includes a discussion about how to have a pleasurable sex life, especially for LGBTQIA+ folks. Only nine states require that discussion of sexual orientation be inclusive. Instead, people are left to their own devices to figure out what feels good — and sexuality (especially for women) can be exceedingly complex and varied.
That's why Dr. Holly Richmond, Certified Sex Therapist and LMFT, has partnered with sexual wellness brand K-Y to help women have more fulfilling and pleasurable sexual experiences. I spoke to Richmond about the most common misconceptions about female sexual pleasure, and what you should know about how female sexuality really works. As it turns out, there are plenty of ways to have an amazing sex life on your own or with a partner — it all comes down to arming yourself with accurate information. Knowledge is power.
Read on to learn five major myths about women and sex.