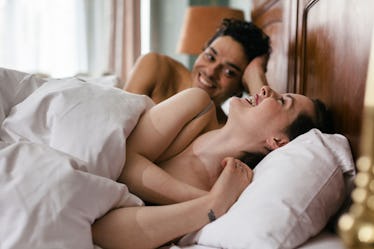 4 Ways To Bring More Intimacy & Connection Into Your Sex Life, According To An Expert
Sex is pretty much the most intimate experience you can share with someone else, and yet it's still possible to have sex without really connecting with the other person. Whether you're newly committed and are still getting to know your partner on an intimate level, or you want to reignite the passion in a long-term relationship, understanding how to be more intimate during sex with your partner can completely shake up your sex life.
If you do feel like you and your partner are in a sexual rut, it could be because the two of you are no longer connecting the same way you used to. You've probably gotten into a comfortable routine and are looking for an effective solution. Before you break out The Joy of Sex, you should get to the bottom of why you feel like the sex isn't satisfying in the first place. By addressing this big-picture issue and talking about both of your needs, you can increase intimacy and re-introduce those initial feelings of desire into your relationship. Once that's taken care of, feel free to experiment with simpler pleasures, like lingerie and sexting. But do handle the hard part first. Here are four expert-approved ways to bring more intimacy and connection into your sex life.