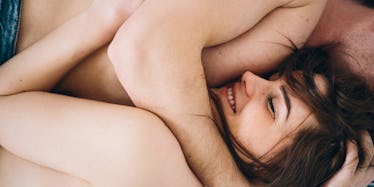 Women Have The Same Sex Drive As Men, But One Thing Can Get In The Way
Any dude who says women don't want sex as much as guys do is a liar. I have science to prove it. Science, dude. Science.
Kindara, a fertility awareness app, recently polled women who use the app about their libidos.
What it found was women not only wanted sex as much as men, but 53 percent of women actually claimed they weren't getting enough lovin'.
According to Daily Mail, almost 75 percent of women reported they wanted to engage in sexual activity more than three times a week, while an impressive 13 percent of women said they would get it on six times a week if they had their ways.
Terri Conley, a University of Michigan assistant professor of psychology, believes this research suggests women desire sex just as much as men.
The study also found nearly 73 percent of women claimed they orgasm during all sexual encounters, and 10 percent of ladies claimed they GET THUR "multiple times" a session.
When it came to the question of what goes into having good sex, a little over half of respondents claimed solid intimate connections were most important.
About 24 percent of women thought that connections were bullcrap, though, and said foreplay was the most important thing.
So, if a woman is so eager to jump into the sack, why isn't she getting any?
The answer may simply be stress.
Kindara said 39 percent of women think stress most negatively affects their sex lives. Other than stress, the reasons included being out of sync with their partners  (28.2 percent), simply not being in the mood (20.2 percent) and self-image problems (20 percent).
The good news is 18 percent of women claimed there was actually nothing stopping them from having sex!
Go get 'em, ladies!
Citations: Women DO want sex as much as men with some craving it SIX times a week but stress is to blame for the lack of bedroom action (Daily Mail), Women Want Sex Just As Much As Men Do, New Survey Shows, And More Things To Know About Sexuality (Bustle)