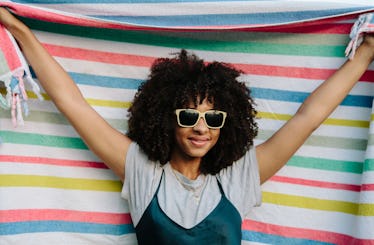 3 Zodiac Signs Who Won't Have Summer Flings This Year — But There's Always Next Year
For many single or seeking people, the warm nights, new locations, and upbeat music of the season create the perfect backdrop for a summer fling. Certain signs may be more inclined to get their heart (and legs) wrapped up in another's this summer — here's looking at you, Leo, Libra, and Pisces! Still, there are some zodiac signs who won't have summer flings in 2019, and this can be for a number of reasons.
It's not that these signs can't be dreamy like a Pisces, romance-minded like a Libra, or emotionally intuitive like a Leo. On one hand, their deep love of love holds them back from starting a "fling." They're worried about emotionally investing into a situationship that may or may not blossom into a committed relationship at summer's end. They're "all or nothing" signs.
Plus, they've got too much going on this summer — whether that's personally or professionally — to get involved in a summer fling, so sticking to hookups or nurturing their current FWB relationships may be the right move.
With that being said, here are the three signs that are much less likely to have a summer fling in 2019. However, astrology is in no way definitive — so maybe next year?