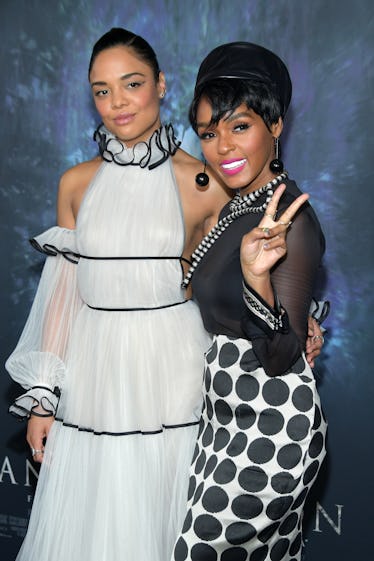 Janelle Monae & Tessa Thompson Might Be A Couple Now & Their Love Gives Me Life
Neilson Barnard/Getty Images Entertainment/Getty Images
Pardon me, I'm going to need you to stop whatever you're doing right now. I have some news — some very important news to discuss with you. And honestly, after the bad news we've had this week, you're going to want to hear this, because it's pure happiness. OK, are you ready? Here we go. Tessa Thompson just came out as bisexual and discussed how she and Janelle Monáe "love each other deeply." If you're freaking out right now, then, don't worry — so am I! The question is, what exactly does that mean? Are Janelle Monáe and Tessa Thompson dating for real?
Neither has "officially" confirmed it, but it sounds quite possible. (Elite Daily contacted both Monáe and Thompson's teams for comments but did not hear back by the time of publication.) This all came about in the Westworld actor's recent interview with Net-A-Porter, in which she opened up about her bisexuality and her relationship with Monáe — a relationship she stops just short of confirming is a romantic one.
"It's tricky, because Janelle and I are just really private people and we're both trying to navigate how you reconcile wanting to have that privacy and space, and also wanting to use your platform and influence," Thompson told the magazine. So yeah, plenty here to keep the hope and long-time rumors that they're a couple alive and well.
"That was something I was conscientious of in terms of this declaration around Janelle and myself," she continues. "I want everyone else to have that freedom and support that I have from my loved ones. But so many people don't. So, do I have a responsibility to talk about that? Do I have a responsibility to say in a public space that this is my person?"
If you haven't kept up with the Thompson/Monáe rumors, they actually started way back as early as April 2015, when Thompson appeared in Monae's "Yoga" music video, followed by the two appearing at the MOCA gala in color-coordinated outfits, taking vacations together, and just generally seeming cozy. For a while, the rumors quieted down about the two until they were spotted together getting cuddly in early 2017.
A year later in February 2018, Monáe joined Thompson on the red carpet at the premiere of Thompson's film, Annihilation, but things really took off later that month, when Monáe began releasing videos from her most recent album Dirty Computer. Thompson played a recurring role, at one point even peeking out of Monáe's vagina pants (yes, that's a thing) in her music video for PYNK.
In April, Monáe opened up about her sexuality in a cover story for Rolling Stone, although she declined to discuss her dating life. In the past, she had chosen to be more mysterious about her identity, saying she "only dates androids," but in this interview she explained that she identifies as pansexual, telling the magazine:
"Being a queer black woman in America, someone who has been in relationships with both men and women – I consider myself to be a free-ass motherf***er."
Rolling Stone points out that Monáe initially identified as bisexual, "but then later I read about pansexuality and was like, 'Oh, these are things that I identify with too.' I'm open to learning more about who I am," she said.
Which brings us to the latest: Thompson's revealing and intriguing interview with Net-A-Porter. While Thompson never outright confirmed if she is in a relationship with Monáe, she was happy to open up about how she feels about her, telling the magazine, "We love each other deeply." She added, "We're so close, we vibrate on the same frequency. If people want to speculate about what we are, that's okay. It doesn't bother me."
Well, that's good, because I ship these two so hard there's no way I can stop hoping and speculating it's a real love story. And if it's not, well, at least we'll always have the PYNK video.
Check out the "Best of Elite Daily" stream in the Bustle App for more stories just like this!