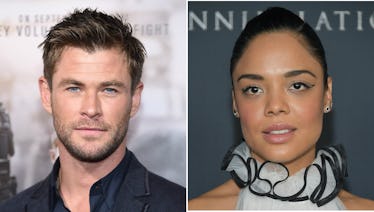 Thor & Valkyrie Are Reuniting In A New 'Men In Black' Reboot & Our Brains Are Exploding
Dimitrios Kambouris/Neilson Barnard/Getty Images Entertainment/Getty Images
2018 is the year of reboots. The classic sitcom Murphy Brown is getting the revival treatment, American Idol just returned, the Heathers series is set to premiere sometime this year, and Netflix just hit it out of the park with an updated take on Queer Eye. On Wednesday, The Hollywood Reporter announced that another revival is coming, but this time, it's one that I'm super, super excited about: in 2019, Sony is premiering a Men In Black reboot with Chris Hemsworth and Tessa Thompson as the stars. I'll let that sink in for a minute.
You good? Great, because I'm not. I'm freaking out. Two of my favorite stars taking on Will Smith and Tommy Lee Jones' iconic roles? My brain is exploding with excitement over this one.
Hemsworth and Thompson first lit up our screens in Thor: Ragnarok as superheroes Thor and Valkyrie. Valkyrie was a new addition to the Marvel Cinematic Universe (she'd been introduced in comics, but never before on screen), and Thompson played her with an amazing amount of heart. She may have been new to the MCU, but Thompson wasn't afraid to speak out on behalf of her character and insist that Valkyrie is bisexual, even though the parts explaining her sexuality were cut out of the film.
Of course, I'm excited to see the Thor: Ragnarok co-stars reprise their roles in the upcoming Avengers: Infinity War (which premieres in theaters on April 27, 2018), but it's their appearance in the Men in Black reboot that I'm really excited to see. According to The Hollywood Reporter, Hemsworth and Thompson won't actually be jumping into Smith and Lee Jones' shoes. Instead, the "reboot is to feature new characters rather than Agents K and J" and "will build on the contemporary sci-fi world in which they operated." That means that these two amazing actors will get to put their own spin on the Men in Black universe and be whatever agents they want. In 2018, this makes sense: why confine a male-female partner duo to the restrictions of the original, predominantly male film?
While the original 1997 focused primarily on Agents K and J, sources tell The Hollywood Reporter that the reboot will be "more of an ensemble piece than a two-hander and will be more global in scope," so it's only a matter of time before more actors attach themselves to this already-amazing project. Behind the camera, F. Gary Gray (The Fate of the Furious) will direct, and Iron Man screenwriters Matt Holloway and Art Marcum will write the script. All of the original producers will return, including Steven Spielberg as an Executive Producer.
While there's no word on when production will begin, the producers will have to work around Thompson and Hemsworth's very busy schedules. Both actors are signed on to Part 2 of Avengers: Infinity War, and Hemsworth is currently filming Bad Times at the Hotel Royale, a thriller about a dilapidated hotel near Lake Tahoe, California. The film is set to premiere in 2019 and features an all-star line up of stars like Jon Hamm, Dakota Johnson, Nick Offerman, and Jeff Bridges.
Hemsworth is certainly busy, but Thompson's schedule may be even more packed. She's currently filming Creed II, the sequel to Michael B. Jordan's boxing drama, and the second season of Westworld, HBO's non-Game of Thrones heavyweight. Thompson's role in Season 1 wasn't huge, but after that major moment in the finale (no spoilers, I promise), Delos is likely going to tighten the reins in the park, giving viewers a chance to see more Charlotte Hale, Thompson's character. As if this weren't enough, Thompson also stars in Sorry to Bother You, Annapurna's telemarketing comedy that premieres this summer, alongside Armie Hammer and Lakeith Stanfield.
Let the countdown to the Men in Black reboot begin: the film is set to premiere on June 14, 2019.