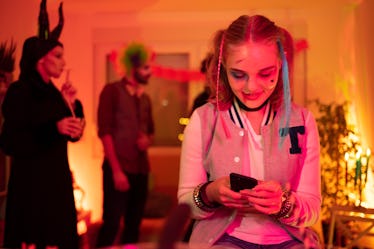 These Halloween Emojis And Memojis Will Make Your Messages So Spooky
SrdjanPav/E+/Getty Images
As you already know, there are a ton of ways to show off your Halloween spirit. But aside from costumes, festive decorations, and general witchiness, expressing yourself through emojis and Memojis (the animated characters that mirror your facial expressions and voice on the iPhone) this Halloween season is the way to go. Between the skull Memoji, coffin emoji, and spooky spider web emoji, there are plenty of ways to express your love for the most frightening time of year through messages to your friends or social media posts.
In terms of Halloween-themed emojis and Memojis, Apple has you covered if you have an iPhone — and if you don't, most of the emojis on the Apple iOS keyboard have counterparts on other systems and devices anyway. Lucky for anyone who loves this holiday, there's a heap of Halloween-themed emojis by Apple to choose from. Your options include everything from ghosts to jack-o'-lanterns, various fearful expressions, vampires, aliens, robots, skulls, zombies, bats, spiders, spider webs, coffins, and even a funeral urn.
There are so many spooky and (quite honestly) terrifying emojis you can use for each and every one of your texts, tweets, Instagram captions, and TikTok videos this spooky season. So, if you are in need of some inspo, here are 15 of the best spooky and scary emojis and Memojis to help you step up your Halloween game.
Whether you're feeling sweet or frightful, make sure you show off your Halloween spirit with these ghoulish emojis and Memojis. Your text messages and captions are looking a little creepier already. 👻
This article was originally published on