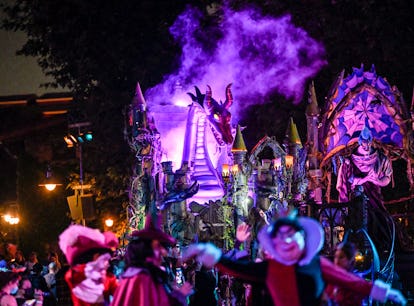 You Can't Miss These Halloween Theme Park Events And Attractions This Year
Frightening fun for the ultimate scare-seeker.
MediaNews Group/Orange County Register via Getty Images/MediaNews Group/Getty Images
Do you feel that chill in the air? It was probably just the crisp autumn breeze, but this time of year, you never know what ghosts and ghouls may come through to haunt you. The countdown to the Halloween season is finally underway, and real witches and warlocks know that it's the ideal time of year to chase your fears and see what's lurking in the haunted house or glowing in the pumpkin patch. If you're that kind of scare-seeker, you're probably looking forward to hitting a theme park this fall to experience as much frightful fun and you can fit into the month. Embrace your thirst for thrills, hop on your broomstick, and fly over to one of the top theme park Halloween events for 2022 that'll fill your day or weekend with plenty of tricks and treats.
One of the many exciting parts about the spooky season is that you don't have to ditch the amusement park when summer ends. Starting in September, a lot of theme parks across the country throw festive Halloween parties and costume parades, and host haunted attractions with terrifying trick-playing monsters. Between riding those rickety roller coasters under the moonlight and collecting candy around your own personal Halloweentown, keep an eye out for creepy creatures and gory goblins that may be lurking in the shadows past nightfall. Whether your vibe is a festive daytime fall festival or a foggy walk in the middle of the night, you can find the right Halloween attraction for you and your boos with these top Halloween amusement park events for 2022.