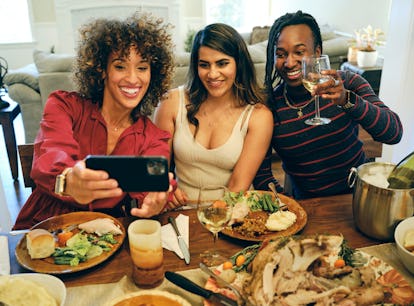 50 Thanksgiving 2022 Quotes To Caption Your Feast Instagram Pics
RichLegg/E+/Getty Images
Wasn't it just Halloween? Time flies when you're enjoying the fall time, and it's already time to get your appetite ready for a delicious 2022 Thanksgiving feast. By now, hopefully, you have your menu prepped from breakfast to dessert, a long grocery list ready to go, and your stretchy pants on standby. You wait all year long for that heavenly bite of gravy-drowned mashed potatoes and your relative's famous pumpkin pie. Whether you're cooking all day in the kitchen or chilling on the couch in front of a football game, once you sit down at the dinner table, you'll want to take a photo of your colorful plate or a group pic with your friends and fam to properly say Happy Thanksgiving. Grab these Thanksgiving 2022 quotes and Instagram caption ideas for posting this year's holiday photos to your IG feed.
You may love your family tradition of gathering around the TV on Thanksgiving morning to watch the Macy's Day Parade. Or maybe you take the holiday time off really seriously and opt to sleep in until dinner is served. Either way, Thanksgiving is all about being grateful and soaking up the love as you gather with your favorite people. Whether you're traveling to your hometown or organizing a Friendsgiving with your chosen family of besties, make sure to cherish the holiday and snap pics to remember the highlights.
Then, on Black Friday, after shopping or sleeping in, you can go through your camera roll and curate a photo dump for your followers to feast their eyes. You can include a photo of your Thanksgiving outfit (even if it's sweats), a spiced cider cocktail you sipped on, a dinner table selfie, or a stacked plate that's looks almost as full as your heart feels. Chances are, you'll be in a food coma by the time you're ready to post, so scroll down to see 50 Thanksgiving 2022 caption ideas to pair with this year's feast photos.
"Phone eats first."
"It's giving thanks."
"I may be biased, but the chef killed it this year."
"Feast your eyes."
"Full belly, full heart."
"Pies so nice, we made them twice."
"Little Miss Thankful."
"Talk turkey to me."
"Am I the drama...?"
"Hit me, gravy, one more time."
"Going gobble mode."
"You ain't seen stuffin' yet."
"Gratitude is the attitude."
"What if, today, we were grateful for everything?" — Charlie Brown, A Charlie Brown Thanksgiving
"Football, feast, nap, repeat."
"#Stuffed."
"Pumpkin spice and everything nice."
"Winner, winner, turkey dinner."
"Already dreaming about leftovers."
"These are my Thanksgiving pants!" — Joey Tribbiani, Friends
"Happy needless turkey murder day." — Phoebe Buffay, Friends
"I get pie with a little help from my friends."
"Sorry my Thanksgiving puns are so corny."
"Eat, drink, and be cranberry."
"Giving a new meaning to 'leg day.'"
"Thanksgiving is a workout. I've got a fork and I'm doing repetitions."
"Spice, spice baby."
"Good vibes and apple pies."
"I'm about to get cranberry sauced."
"Happiness is homemade."
"Don't text, in a food coma."
"FACT: You can't answer your family's questions if you always have food in your mouth."
"It's not too much food. This is what we've been training for our whole lives. This is our destiny, this is our finest hour." — Lorelai Gilmore, Gilmore Girls
"You're pumpkin special."
"You're the gravy to my potatoes."
"I will love you until the end of thyme."
"Did someone say leftovers?"
"Welcome to the annual Hunger Games."
"The last one to leave has to do dishes."
"Active: Feast mode."
"Talk turkey to me."
"All or stuffing."
"What is Thanksgiving without a side of drama? And pie. Apple or pumpkin?" — Blair Waldorf, Gossip Girl
"The gravy boat has sailed."
"No side dish left behind"
"First we feast, then we nap"
"#TooBlessedToBeStressed."
"Zzz..."
"A grateful heart is a magnet for miracles."
"Well, that's fall, folks."