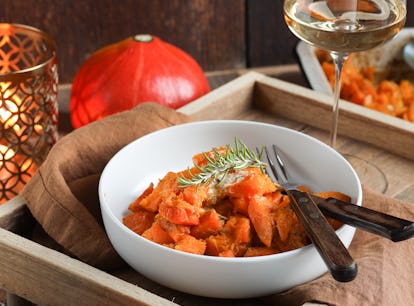 14 Fall Equinox Recipes From TikTok To Celebrate The Harvest
Host a festive feast with these in-season ingredients.
MelanieMaya/E+/Getty Images
While you may have been sipping on PSLs for a few weeks now, Thursday, Sept. 22 marks the official start of fall 2022 with the autumn equinox. The word "equinox" comes from Latin, meaning "equal night," which refers to the 12-hour day and night that occurs on this biannual checkpoint. Traditionally, the fall equinox is all about celebrating the first harvest of the season with a festive feast and your favorite people. Start planning your festive harvest dinner party with these 14 delicious fall equinox 2022 recipes from TikTok.
For foodies, this time of year brings a whole new lineup of fresh produce to enjoy and get creative with. Whether your sweet tooth wants to be satiated by a tasty hazelnut cake or you're craving hearty chili to kick off football season, TikTok is full to the cauldron-brim with fall recipe inspiration. Bookmark these harvest recipe ideas for future weeknight dinners or late-night treat cravings, so you know to keep your kitchen stocked with the essential fall flavors. Solstice and equinox celebrations are all about honoring the local harvest, so make it a point to shop your farmers market this year for the freshest produce to use in your comfort dishes. Or, head out to the pumpkin patch and apple orchards for a fun day and take your harvest home to experiment with tons of new recipes. Keep scrolling to check out these hearty and warm fall equinox 2022 recipes that take advantage of the bountiful harvest.