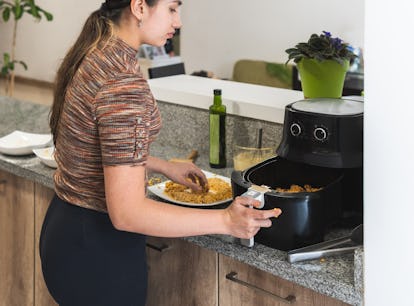 These Easy TikTok Air Fryer Thanksgiving Recipes Include Turkey Legs And Pumpkin Bread
It's fry-nally time for Turkey Day.
Shutterstock
Thanksgiving is a time to give, well, thanks for all the people and things in your life. When it comes to your kitchen, there's nothing you're more thankful for than your air fryer. It's your go-to kitchen appliance, whether you're just making some crispy Brussels sprouts for dinner or viral pasta chips to snack on. You may even have plans to use your air fryer for your Thanksgiving and Friendsgiving dishes. Whether you have some ideas on what you're bringing to the table or not, these easy air fryer Thanksgiving recipes will come in handy.
With TikTok air fryer recipes all over the FYP, the countertop convection oven has recently become a must-have for any home chef. Not only do air friers make cooking simple and easy, but you can also make just about anything with it. In fact, you could cook your entire Thanksgiving meal in your air fryer. From the turkey to the dessert and all those beloved side dishes in between, you can find easy air fryer Thanksgiving recipes for every traditional dish.
Since Thanksgiving will be here before you know it, feast your eyes on these 10 Thanksgiving air fryer recipes from TikTok to see what you'd like fry up this year.