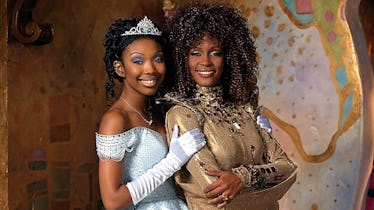 These 12 Movies On Disney+ Will Bring Some Extra Magic To Your Thanksgiving
They all pair well with turkey and family time.
Walt Disney Pictures
Nothing says Turkey Day like grabbing some stuffing and pie, cozying up on the couch with loved ones, and trying to figure out what everyone can agree to stream. Fortunately, there are plenty of movies on Disney+ to watch on Thanksgiving while you digest. For those looking to get into the mood as the holidays come bearing down, the House of Mouse has lots of options that everyone can agree on.
While this year promises at least a few new holiday-themed shows, like Hawkeye and Olaf Presents, viewers shouldn't forget the streaming service's movie collection in a rush to watch the big Wednesday premieres. Although most of Disney+'s big titles relate to the Marvel Cinematic Universe and Star Wars, the streaming service has a collection that extends far beyond those two franchises. For example, Disney+ has films from both the Wonderful World of Disney and the 20th Century libraries, and there is family-friendly fare of all types to watch over the holidays. Some of them are Christmas classics, while others are merely heartwarming tales. Either way, they're fun for the whole fam.
No matter what you end up watching, any of these movies are sure to make the beginning of the holidays a little more magical.
This article was originally published on