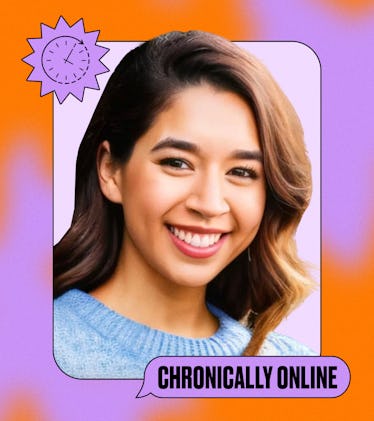 An Editor Headed To Halloween Horror Nights Tracks Her Screen Time
The U.S. Open, Ariana Grande, and a nine-hour car ride really ramped up the hours on apps.
In Chronically Online, Elite Daily asks people to get real about their phone habits, tracking their screen time for a week. This week, Elite Daily's deputy editor of experiences and style, Kaitlin Cubria, who traveled from Maine to NYC to Orlando over seven days, shares the apps she used, the time she spent scrolling, and all the fun events she hit up along the way.
I never considered myself to be a chronically online person. When my work day — which requires me to look at a computer screen 99.9% of the time — is over, I try to engage myself in IRL conversations, go outside, read books, and watch nonsensical TV (albeit, that also requires looking at a screen). The only time I really clock myself using my phone in an unproductive way is when I'm revenge scrolling on TikTok for a half hour or so before bed. (More recently, it's been slightly longer since my algo has my FYP focused on must-watch #NSYNCTok videos post-VMAs.) But, LOL, the joke's on me because my screen time diary for one week included a lot more hours on Spotify, Instagram, and other apps than I anticipated.
At the end of the summer, I usually try to go on a trip or two before the never-ending to-do lists that come with Virgo season kick in. This year, those trips consisted of an annual weeklong vacation to a coastal town in Maine and about 48 hours in Orlando, Florida for Halloween Horror Nights. In between the two, I did some work, attended the U.S. Open, and went to an event for Ariana Grande's r.e.m. beauty brand. With so much going on, I didn't think there would be much room for screen time... but even Traveling Me couldn't stay off her phone for too long.
Occupation: Deputy Experiences & Style Editor, Elite Daily
Age: 34
Location: New York City
Weekly Average (Aug. 27-Sept. 2): 3 hours, 39 minutes
Day 1: 9 Looong Hours In A Car
Our annual trip to Boothbay Harbor, Maine came to an end on a Sunday in the summer, so, naturally, there was a lot of traffic coming down the East Coast. What would typically be a six-hour journey turned into a nine-hour trek that mainly comprised of sitting in a car, with only a short pitstop to eat about halfway through. My partner's phone was being used for directions, so I'm sure his screen time was taken up by hours on Waze; my phone was primarily used for the entertainment — mainly my own. Spotify dominated my screen time, with *NSYNC (perhaps this also influenced my algo), Ariana Grande, and Celine Dion being some of the most-played artists. (What I wouldn't give to be on Carpool Karaoke.)
Instagram also ate up my battery, with nothing but endless scrolling through the same photos of my friends on their own vacations. Real talk: Why was everyone in the Azores this summer? The FOMO was real, but it gave me some inspo for my own trip to Portugal next spring.
Most Used Apps: Spotify, Instagram
Screen Time: 4 hours, 9 minutes
Day 2: Opening Day At The US Open
I'm not saying that I bumped up our annual trip a week just in case I had the chance to go to the U.S. Open again... but I'm not not saying it either. Courtesy of American Express, I attended tennis' biggest event (in the States, anyway) on the first day, where I got to watch defending champion Iga Świątek beat Sweden's Rebecca Peterson, among other notable face-offs. True to form, I had to document the occasion on IG, showing off my best attempt at quiet luxury meets tennis match.
I wish I could say something more interesting about my other two most-used apps, Gmail and Messages, but that was really just me 1) quadruple-checking that my tickets were actually in my inbox (yay, anxiety!) and 2) texting one of the Amex publicists about where to go within the stadium. And maybe humble-bragging about attending the U.S. Open to some friends and fam.
Most Used Apps: Instagram, Gmail, Messages
Screen Time: 3 hours, 31 minutes
Day 3: That Everyday Work Grind
Unsurprisingly, the least amount of time I spent on my phone was during the one traditional workday I had during this seven-day span. The time I did spend scrolling was predominantly used for Instagram to see what celebs and brands were up to while I was away. (The Joe Jonas-Sophie Turner split announcement happened the following week, so things were relatively quiet at this time.) Gmail and Slack were also clearly work-related, so, hi, boss!
Most Used Apps: Instagram, Gmail, Slack
Screen Time: 2 hours, 48 minutes
Day 4: A Mid-Week Ariana Grande Moment??
The day I consumed the least amount of screen time was quickly trailed by the day I consumed the most, thanks in large part to Ariana Grande's r.e.m. beauty Sweetener Shoppe. The Grammy winner had just released her Sweetener Foundation, and followed it up with an ice cream parlor pop-up where I went *in* on the complimentary ice cream, makeup, and merch... and documented it all for Insta and TikTok. It was all so dreamy — living up to the "r.e.m." in its name — I couldn't stop taking pics (hence the Camera app) and then looking at those pics (hence the Photos app).
My search history on Chrome added up to more screen time than usual due to a wide range of topics: the latest Love Island couple drama, since the UK edition had ended earlier that month; Claim to Fame Season 2, which had aired its finale while I was on vacay; what happened to Mitch McConnell, because he froze again during a press appearance that day; and, the pièce de résistance, Elite Daily's Gen Z Class of 2023 issue, which had launched that morning.
Most Used Apps: Photos, Chrome, Camera
Screen Time: 4 hours, 44 minutes
Day 5: Packing & Procrastinating
Knowing I had to get up early the next morning for my flight to Orlando, I obviously had to spend an hour or so on social media. Taylor Swift had announced her Eras Tour concert film earlier that day, so the Swifties, myself included, were all over Insta, making sure everyone knew they were counting the minutes until it hits theaters. (Oct. 13, be there.)
As you can see, Anxious Me made another appearance, based on Gmail's resurgence as one of my top apps. Not only was I ensuring that my ticket still, in fact, existed, but JetBlue also always likes to keep me on my toes, and was sending me lots of messages regarding my flight, as well as future flights. Thanks, JB.
Most Used Apps: Instagram, Gmail
Screen Time: 3 hours, 35 minutes
Day 6: Flight Delays On A Holiday Weekend? Groundbreaking
Being at JFK airport on the Friday leading into Labor Day Weekend is never a good idea IMHO, so I was already expecting delays. Hurricane Idalia had also been wreaking havoc in Florida around the same time, so I was concerned that my flight would be canceled altogether. So, after stressing out over my ticket being in my inbox the day prior, I eventually moved it over to my Wallet app and stressed about whether "Delayed" or "Canceled" would pop up on the right-hand side; the former eventually did make an appearance, but at least it was only for an hour and a half.
Hours later, my troop and I arrived at our colorful and normally picturesque hotel in Orlando. I had originally wanted to take some snaps of the pool area to post on my IG stories, but a torrential downpour started up moments after we checked in. It wasn't the snapshot I was hoping for, but I still took some video footage, because nothing gives people FOMO more than a thunderstorm.
Once the rain subsided, it was onward to Halloween Horror Nights. And if you go to HHN and don't document all the haunted houses, food, and drinks, did you really go? The answer is a resounding naur, which is why the Camera app and Instagram controlled my screen time, even with everyone's humidity hair. Now, I have stunning grainy and shaky footage inside the Stranger Things and The Last of Us spaces that I can go back to time and time again.
Most Used Apps: Camera, Instagram, Wallet
Screen Time: 3 hours, 43 minutes
Day 7: Theme Park Fun
Getting in past midnight post-HHN didn't stop us from hitting up Universal as early as possible... or, at least, that was the plan. My group and I arrived at the Guest Services counter around 9 a.m. to pick up our tickets, but it took us an hour to get to the front of the line. This gave me a significant amount of time to re-read the email that informed me that Guest Services was the correct pickup spot. I'm pretty sure I scanned that message a dozen times, trying to find some hidden clue that could get us inside quicker, but there was nothing I could do but wait. Ugh.
Adventure awaited beyond the gates, leading to so many photo and video ops. The Wizarding World of Harry Potter alone is full of rides and attractions made for Instagram. In recent months, Hagrid's Magical Creatures Motorbike Adventure has become one of my faves, so I made sure to make a stop there while we were in the Hogsmeade section of Islands of Adventure. A short walk outside the HP-themed area is my other fave: the Jurassic World VelociCoaster, which has to be the fastest and smoothest roller coaster I've ever experienced. I'm prone to motion sickness, but this ride is probably the only one I'm willing and actually able to take over and over again.
Most Used Apps: Camera, Instagram, Gmail
Screen Time: 3 hours, 4 minutes
Final Thoughts: Am I Always So Stressed Out?
I know my screen time pales in comparison to my other, more extremely online colleagues, but I was still somewhat surprised at some of the results. More specifically, what I spent time looking at... and what I didn't. No TikTok?? I think if it were any other week that wasn't overrun with activities, TT would've been the dominant application. But you caught me during a jam-packed week, full of photo-worthy moments and, apparently, stress. I had no idea how much time I put toward confirming things I already had engrained in my brain; my tickets were fine, I knew my flight times, I knew what line I was supposed to be on... Moving forward, I definitely need to learn how to relax a bit more and put the phone down, especially on vacation.