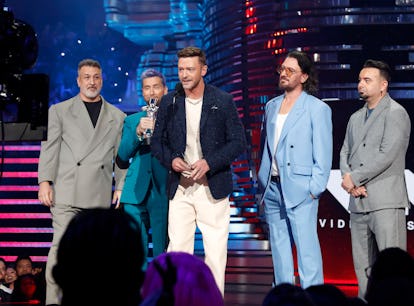 *NSYNC Has Reunited & Everyone Wants To Know What's Next
Thank you, Taylor, for asking the important questions.
Johnny Nunez/Getty Images Entertainment/Getty Images
NSYNC is back to tearin' up our hearts once again. The iconic '90s boy band reunited on stage for the first time in a five years at the 2023 MTV Video Music Awards. Sadly, they didn't perform any of their hit songs at the ceremony, but their long-awaited reunion had everyone (including fangirl Taylor Swift) asking the group what they're planning next. There's already some new music in the works, and fans think that a potential NSYNC reunion tour could even be on the horizon as well.
Justin Timberlake, JC Chasez, Lance Bass, Joey Fatone, and Chris Kirkpatrick reunited for the first time in half a decade to present at this year's VMAs. The last time all five NSYNC members were together, it was in 2018 when they received their star on the Hollywood Walk of Fame. The VMAs was the perfect stage for the nostalgic coming together, since it was the last event that the boy band performed at together. Back in 2013, the group gave their final live performance as a fivesome when Timberlake was awarded the Video Vanguard Award that year.
Sadly, there was no performance involved in their latest reunion, but there does seem to be more NSYNC to come in the future. After the group presented Taylor Swift with the Best Pop award, a giddy Swift interrogated the reunited band about what they're planning next. "Like, are you doing something? What's going to happen now?" Swift questioned. "They're going to do something and I need to know what it is!"
As viewers pointed out, the men's reaction to Swift's questions seemed to say it all.
Longtime fans already know the "something" that they're hoping NSYNC will do: announced a reunion tour. After the VMAs, fans begged the group to bring the '90s goodness back for one more concert series.
But unfortunately, a tour doesn't sound too likely. After the VMAs, TMZ reported that the group has no plans to stage a reunion tour at this time.
There's a big silver lining for NSYNC fans, though. The boy band is about to drop their first new song together in over 20 years. All five members of NSYNC recorded the new track, "Take You to a Better Place," for the upcoming movie Trolls Band Together. The third movie in the Trolls franchise stars Timberlake, and there are rumors that Chasez, Bass, Fatone, and Kirkpatrick may appear in cameo roles as well.
So, while a tour may still not be in the cards, and least a new NSYNC song is something fans can look forward to.