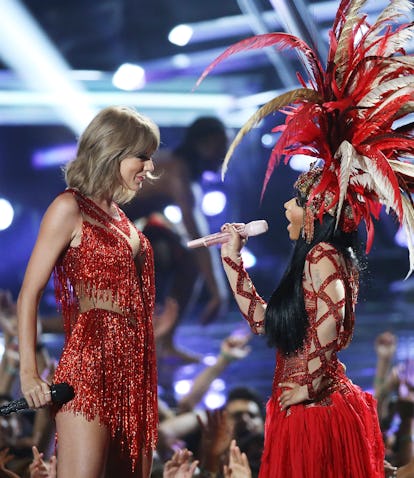 The 13 Most Iconic MTV VMAs Performances Ever
It's hard not to keep re-watching these.
Michael Tran/FilmMagic
Ever since the first MTV Video Music Awards ceremony back in 1984, pop stars have used the night to shock and awe audiences, whether it's a 26-year-old Madonna humping the stage in a wedding dress singing "Like a Virgin" during the inaugural broadcast or Kanye West interrupting Taylor Swift's 2009 acceptance speech for the Best Video by a Female Artist to rep for Beyoncé.
Unlike other stuffier awards shows, shenanigans don't just happen at the VMAs. If anything, spontaneity is celebrated just as much as the music videos and the people who make them happen. The 2023 VMA performances will likely be no different, with the likes of Demi Lovato, Karol G, Olivia Rodrigo, and Stray Kids set to take the stage. Shakira will be presented with the Video Vanguard Award, too, which means she'll also be taking the stage to perform a medley of her hits, just like former winners such as Rihanna, Pink, Nicki Minaj, Justin Timberlake, and others. So prepare yourself for the onslaught of the clips and commentary about her hips continue to tell no lies on your FYP in the days after the MTV VMAs air on Sept. 12, 2023.
The VMAs are almost 40 years old, but even in its middle age, the ceremony is still considered must-see TV, bringing fans some of the most iconic performances and pop culture moments of all time. That's not an overstatement either. As you'll likely remember scrolling through this list, just like Lady Gaga's 2010 VMA red carpet meat dress, these VMA performances are welcome to live happily rent-free in every pop culture aficionado's head, from the very first jaw-dropping performance to the most recent.
Madonna, "Like A Virgin" (1984)
Madonna set the tone for how to perform live on MTV at the very first VMA ceremony in 1984. Dan Ackroyd and Bette Midler hosted the show, with the likes of David Bowie, Cyndi Lauper, and Herbie Hancock in attendance. Hancock was actually the most awarded artist of the night, ahead of Michael Jackson and Lauper. The Police were nominated and won for their 1983 single "Every Breath You Take," making Sting's 1997 performance with Diddy below all the more loaded with historical context. But it was Madonna who stole the inaugural show, performing her hit single at the time, "Like a Virgin." She took the stage alone with just a mic, dolled up in a perfectly 1980s wedding dress, and went for it. While it sounds simple, just wait until she starts rolling around and basically humping the stage in front of the live audience. It sounds not that scandalous now, considering "WAP" and all, but for the moment, it was a lot for the general public to take in. It's one of the defining moments of Madonna's career and made her a hard act to follow for artists to come, to this day, at the VMAs.
Diddy, Faith Evans, Sting; "I'll Be Missing You" (1997)
On TikTok, the "I'll Be Missing You" choreography and sound are everywhere, but it all began in 1997 at the VMAs, held at Radio City Music Hall in NYC. The show, hosted by Chris Rock, was held on Sept. 4 of that year, about six months after Diddy's best friend and hip-hop star Notorious B.I.G. was shot and killed. The song seems ubiquitous now, but at the time it was considered a heartbreaking tribute to the beloved rapper and played over and over and over again after its May 1997 release on the radio, MTV & BET, and every car you stopped next to at a red light that summer. When Sting took the stage with Puff Daddy, as he was affectionately known at the time; R&B star and Biggie's wife, Faith Evans; R&B group 112; and a gospel choir, it was what can only be described as a Very Big Deal. Whether you were sick of the song because it was on literally everywhere by the end of summer 1997 or sobbing at the tribute, the "I'll Be Missing You" performance will always go down in VMA history.
Diddy will be celebrated at the 2023 VMAs, in part because of this sort of showmanship and cultural relevancy over the years.
Britney Spears, "I'm A Slave 4 U" (2001)
Britney has had many eras when it comes to her fashion and music, and they've all been pretty iconic. But all of those transformations truly began in 2001, when she took the VMA stage in a bikini top, teeny tiny booty shorts, and, of course, an actual python. While the large snake is what most people remember (or include in their Halloween costumes), Spears also opened the show with a large tiger in a cage, courtesy of Tiger King's Doc Antle, FWIW. But at the time, it wasn't the ethical questions about performing with wild animals that shocked people.
The audience was really blown away seeing Brit, 19 years old and known only for her 1999 debut album Baby One More Time at the time, as a fully grown, sexually empowered woman. The "Slave 4 U" VMA performance was essentially an announcement that she was way more than her Disney-fied persona. It also was proof that she was way more than a one-hit wonder and a veritable pop star. The performance is everything, so watch it a billion times before Britney's memoir comes out because there could be an entire chapter on what was really going on with her behind the scenes as the performer put together this transformation.
Madonna, Christina Aguilera, Britney Spears, Missy Elliott; "Like A Virgin/Hollywood/Work It" (2003)
This is iconic on so many levels, mostly because after Britney and Christina open the performance by recreating Madonna's iconic 1984 VMAs performance of "Like a Virgin," Madonna herself comes out to sing "Hollywood." Later, superstar producer and performer Missy Elliott joins them all for a rendition of "Work It." And then Britney, Christina, and Madonna all kiss. As you watch, note the blink-and-you-'ll-miss-it shot of Britney's then-beau, Justin Timberlake, side-eyeing the camera during a very provocative for-the-time performance.
Rihanna, "Disturbia"/ "Seven Nation Army" (2008)
Along with Madonna, Britney Spears, Beyoncé, and Taylor Swift, Rihanna has been on the VMA stage many, many times. In fact, her medley in 2016 after winning the Video Vanguard Award is also in a close tie for "most iconic Rihanna VMA moment." But ultimately, it was this one, back in 2008 when the star paired the White Stripes' "Seven Nation Army" with her own song "Disturbia." In a leather kilt, the singer did her thing while "Thriller" type zombies, also clad in leather, writhed and danced around her. This is what a VMA performance is really about.
Taylor Swift, "You Belong With Me" (2009)
Yes, the 2009 VMAs will forever be remembered as The One Where Kanye West Interrupted Taylor Swift, but it's also the one where she performed "You Belong With Me" literally running around midtown New York City. What gets forgotten is that just after winning the award for Best Female Videos and having Kanye run up and take the mic from her, she not only had to compose herself for the rest of her acceptance speech but make it offstage, into costume change, and onto the roof of a taxi for a live performance of the song within minutes. In the performance, she sings on the subway in a prerecorded segment, and then picks up live on a taxi in front of Radio City Music Hall. To finish the song, she then leads the hordes of fans inside and back on stage. It's this sort of "the show must go on" attitude that makes T. Swift a true legend.
Beyonce, "Love On Top" (2011)
This is an example of not scantily clad dancers or live animals to truly make a VMA performance iconic. In 2011, Bey took the stage solo to belt out "Love on Top" in a purple sequined tux jacket. She annihilates the vocals — seriously, how is she still breathing? — but it's the end of the performance that solidifies it in pop culture history. At the very end, she literally drops the mic, opens up her jacket, puts a hand on her tummy, and winks at the crowd, confirming months of speculation that she was pregnant with her first baby. So Blue Ivy has literally been on stage with her mother since conception, making those 2023 Renaissance Tour appearances all the more special. Also special? The longer cut of the performance, with Jay-Z reacting in the wings to the announcement alongside Kanye West. What a time.
Justin Timberlake, *NSYNC Medley (2013)
In the late '90s and early aughts, acts like *NYSNC, Britney Spears, and the Backstreet Boys were almost synonymous with MTV, as their videos — sometimes two or three singles at a time — were the darlings of Total Request Live at the time. Timberlake eventually went solo, giving him the opportunity to have even more hit videos along the way. In 2013, in addition to winning Video of the Year for "Mirrors," he was presented with the Video Vanguard Award — an honor presented to an artist who, basically, has enough hit singles and eras to do an epic medley at the ceremony. This year, it's Shakira, who will have no trouble putting on a show as epic as Justin's. He performed his hits like "Sexy Back," as Rihanna, Shakira, Harry Styles, and Taylor Swift danced in the audience, but it was when he reunited *NSYNC on stage midperformance that truly shocked fans of the group. Taylor's face says it all from the crowd, as do Justin and his former bandmates' faces as they reprise the iconic "Bye Bye Bye" choreography.
Nicki Minaj, Taylor Swift; "Night Is Still Young" & "Bad Blood" (2015)
Both Nicki and Taylor have histories of beef with other celebs, and in 2015, the two women also feuded with each other on Twitter. It all started when Minaj tweeted about the lack of love for female artists, especially hip-hop artists, when it comes to award nominations, whether it's the Grammys or the VMAs. The women eventually squashed their beef, only to surprise everyone by taking over the VMA stage later together. They performed Minaj's single "The Night Is Still Young" and, appropriately, "Bad Blood," amid a slew of shirtless male dancers and finished it off with a big hug at the end. The women truly seem to enjoy performing with each other; in fact, the best part of a rewatch of this performance is watching them smile, wink, and shimmy at each other, feeding off of the crowd's energy as they hit their marks.
Kendrick Lamar, "DNA" & "Humble" (2017)
An iconic VMA performance doesn't have to be flashy, but when it's fueled by pyrotechnics, massive screens and video backgrounds, hordes of dancers, and ninjas... it doesn't hurt. Lamar performed a jaw-dropping medley of his songs "DNA" and "Humble" to open the 2017 ceremony and it was just the performance everyone needed to see and hear at the time.
Remember, this all went down right at the beginning of Donald Trump's presidency, and that year's VMAs were politically charged throughout — but it was Lamar who truly summed up a lot of the rage that many watching had been feeling in the opening act, setting the tone for the evening. There's a lot going on here and while Lamar's unassuming stature might small in front of the massive, burning gate that his dancers are climbing behind him, the whole performance exudes power. Watch it a million times and you still might miss something.
Jennifer Lopez, Medley (2018)
In 2018, it was Jennifer Lopez who took home the Video Vanguard Award and she put on a real show, even bringing Ja Rule out for "I'm Real." But aside from just knowing how to put on a performance and remind fans that she truly is Jenny From the Block, the most iconic part of this performance is her then-boyfriend A. Rod cheering her on from the audience, which immediately became a meme. Now she's married to Ben Affleck, but let's never forget that there was a time when A. Rod was lauded as the most supportive Instagram Husband in Hollywood.
Lady Gaga, Ariana Grande; Medley (2020)
Listen, 2020 was a rough year but Lady Gaga performing a medley of songs from her Chromatica album with Ariana Grande was a highlight. From the sets to the fact that they performed in masks and insanely extravagant costumes, not to mention the palpable chemistry between the two women, this is one of the more recent VMA performances that will surely go down in the annals of VMA history. Lady Gaga later performs a song on a piano that looks like... a brain? It doesn't get more iconic than that.
Lil Nas X, Jack Harlow; "Industry Baby" & "Montero" (2021)
A good collaboration is everything, especially on the VMAs stage. In 2021, Harlow and Lil Nas X performed their single "Industry Baby," complete with a full marching band. It's a great performance of a great song, which stayed on top long after the 2021 awards ceremony; although they performed it that year, the duo didn't win for the song until the next year. In the acceptance speech, Harlow credits Lil Nas X for taking charge of the collab that brought them both to fame.