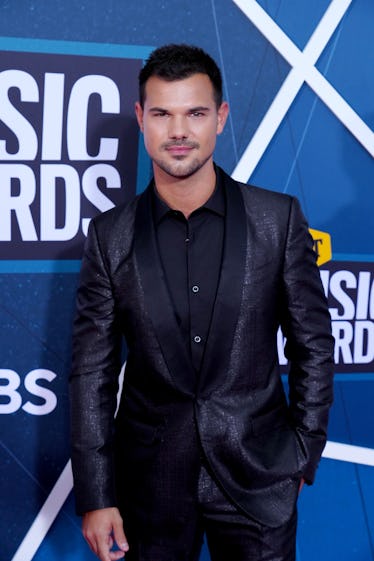 Taylor Lautner's Biggest Taylor Swift Regret Involves Kanye
Let's dial it back to 2009.
Jeff Kravitz/Getty Images Entertainment/Getty Images
Who could forget that infamous moment between Taylor Swift and Kanye West at the 2009 VMAs? The awkward incident caught everyone off guard that night, including Taylor Lautner. In a recent podcast interview, Lautner shared his thoughts on the situation and how he regrets not standing up for Swift at the time.
On Feb. 1, Lautner and his wife Taylor Dome (aka, also Taylor Lautner) talked about the embarrassing moment on their The Squeeze podcast. The topic came up after Dome asked Lautner about a moment in his life he wishes he could go back to.
"Probably the 2009 VMAs, when I presented the award to Taylor and was unaware that the Kanye thing was not a skit," Lautner said, to which Dome replied, "I'm deceased."
Lautner jokingly said that he "planned that answer." However, he seemed to show a little remorse on how he handled the decade-old situation. The Twilight actor, who was dating Swift at the time of the incident, recalled how he presented the Best Female Video award to her that night.
"I took five steps back and was standing five feet behind her. And, yeah, in the middle of her giving her 'thank you' speech, Kanye jumps on the stage," he said, noting that he couldn't see either of their faces from his position on stage.
According to Lautner, he barely heard what Kanye said to Swift and assumed this moment was a "practiced and rehearsed skit." For context, Swift won the Best Female Video award for "You Belong With Me" and was in the middle of her acceptance speech. Suddenly, Kanye stormed the stage and took the mic to praise Beyoncé, who lost to Swift in the category.
"Yo, Taylor. I'm really happy for you. I'ma let you finish, but Beyoncé has one of the best videos of all time. One of the best videos of all time!" West exclaimed, leaving a stunned Swift on the stage.
Lautner admitted to laughing at the interaction, even though he didn't understand what was happening. It wasn't until he saw Swift's gloomy expression that he realized the moment wasn't planned.
"The second [Swift] turned back around and I saw her face for the first time, I was like, 'Oh. No. That wasn't good.' I probably should have said something," Lautner said.
His wife then reassured him, saying that Lautner "made up for his silence" by referencing his 2009 monologue on Saturday Night Live. Four months after the VMAs debacle, Lautner reenacted the incident during his appearance on the late-night show. He joked that he "could have done a little more" to defend Swift by pretending to fight a Kanye mannequin on the SNL stage. Well, that was certainly a choice.
Kanye's bum-rush definitely shifted the mood of the awards show. According to Billboard's oral history of the incident, former MTV Chief Van Toffler revealed that Swift cried backstage before quickly pulling it together to perform. Later in the program, Beyoncé brought Swift back out to finish her speech; however, that wasn't the end of the Swift-Kanye drama.
This situation spurred a longtime feud between the two artists, which involved shady diss tracks, leaked phone calls, and Kim Kardashian stepping in the mix to defend her then husband. Though this moment is cemented into pop culture history, it's interesting to think how this feud would've panned out if Lautner had spoke up to Kanye.