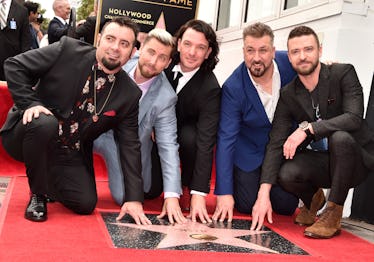 If You Grew Up An *NSYNC Fan, These 11 Things Will Speak To Your Soul
Alberto E. Rodriguez/Getty Images Entertainment/Getty Images
The day has come, and *NSYNC has finally reunited. Unfortunately, it's not for a new album or concert tour, but to celebrate their star on the Hollywood Walk of Fame. It may not be the kind of reunion we've been dreaming of, but as hardcore *NSYNCers, we'll definitely take it. I don't know about you, but the news of the guys reuniting and a "Dirty Pop-Up" Shop in LA gave me all the feels. I'm reconnecting with my boy band roots, and I'm totally here for it. If you grew up obsessed with *NSYNC, you know exactly how I feel.
From "Tearin' Up My Heart" to "Bye Bye Bye," *NSYNC came out with hit after hit. They made marionettes look cool, and sparked an "It's Gonna Be May" meme that will live on forever. They may not have a Vegas residency like another boy band we know, but *NSYNC still lives on in our hearts and that's what matters the most. In fact, we can all relate to these 11 things, because once an *NSYNCer, always an *NSYNCer.
We will never say "bye bye bye" to our beloved Justin, Chris, Joey, Lance, and JC. Unlike their album, there are strings attached, and we'll always love *NSYNC.