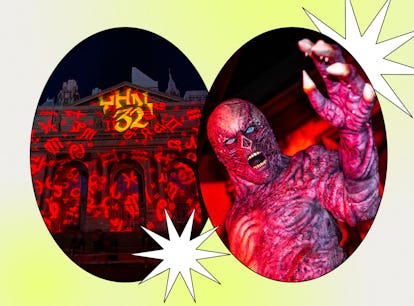 Here's Which Halloween Horror Nights 2023 Event Is Better This Year
I went to both Orlando and Hollywood.
Now that Universal Studios' Halloween Horror Nights has returned, it's officially spooky season. Out of all the theme park events to get you into the spirit, Universal really takes the (bloodstained) cake. This year's festivities include houses themed to Season 4 of Stranger Things and The Last of Us video game that appear at both Orlando and Hollywood's Halloween Horror Nights events. However, not everything is the same, and there is a clear winner of which Halloween Horror Nights 2023 event is better this year.
This is the second year in a row that I've been able to attend both Halloween Horror Nights in Florida and California. Last year, Orlando survived as the final girl in the battle of the coasts, thanks to its Tribute Store full of merch, creepy yet delicious snack options, and movie-like haunted houses. This year, Florida does have a one-up on California with two extra houses — Orlando has 10, while Hollywood has eight. However, we're looking for quality over quantity here. One thing that makes Hollywood stand out is its Terror Tram that drops you off in the backlot, where you get to walk through actual movie sets while trying to escape monsters and jump scares.
While you would think that having similar houses like The Exorcist: Believer and Chucky: Ultimate Kill Count would make these events comparable, there are some big differences. If you're thinking of traveling to either Florida or California to immerse yourself in the world of The Last of Us or battle Vecna with Eleven, here's which Halloween Horror Nights event is the best.