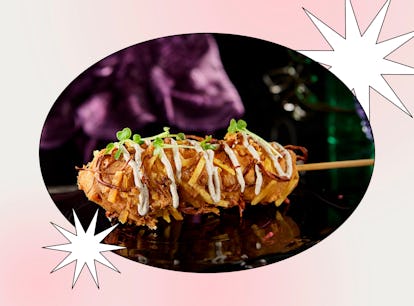 A Ranking Of This Year's Halloween Horror Nights Food & Drink
Bubblegum mustard might be scarier than any zombie from The Last Of Us.
After screaming your lungs out and dodging monsters in haunted houses, you need to refuel. Luckily, the 2023 Halloween Horror Nights food and drink menus provide some scary good treats to do just that. Foodies will find a range of on-theme dishes and cocktails at both Universal Orlando and Universal Studios Hollywood's Halloween Horror Nights events, but not everything bloodstained and spooky is delicious. Sometimes, a treat's Insta-worthiness means it's sacrificing on taste. To help you decide on what to order, we've ranked Halloween Horrors Nights food and drink for 2023.
This year's HHN menu takes a lot of inspiration from the haunted houses, like a Stranger Things Mind Flayer cocktail and a fungus-covered The Last of Us corndog. However, some houses should be left alone, especially if they lead to hot dogs with bubblegum mustard and Kool-Aid pickles. Brave foodies may be into that, but for anyone who likes to play it safe, you can also try one of Halloween Horror Nights' go-to dishes that's made a return this year. Like Chucky coming back for yet another film, the viral pizza fries have made a comeback at HHN. These pizza-topped french fries are a dish that keeps some fans coming back year after year.
So, after you've nearly avoided the Universal Monsters and survived The Exorcist: Believer, stop by one of the booths at Halloween Horror Nights to pick up some of these treats and sips.