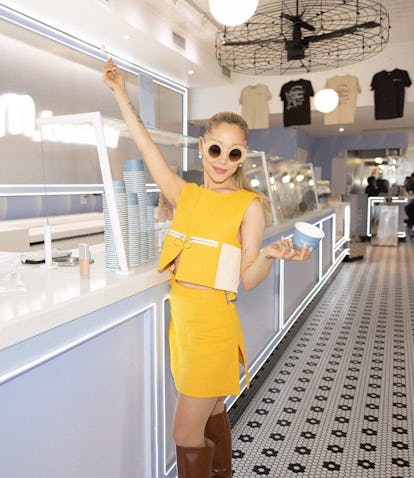 I Went To Ariana Grande's r.e.m. beauty Sweetener Ice Cream Shop
She's bringing the bitter taste to a halt.
We may receive a portion of sales if you purchase a product through a link in this article.
When life deals us cards — like, say, the opportunity to attend an Ariana Grande-themed event — what can you do but hit it, hit it, hit it, hit it up? Fresh off the 10th anniversary re-release of the pop star's debut album, Yours Truly, Ari's r.e.m. beauty had its own standout moment, in the form of an ice cream shop, to commemorate the brand's *sweet* new foundation range. Never one to say no to an iconique pop-up, I went to Ariana Grande's r.e.m. beauty Sweetener Shoppe ahead of its opening to the public and left with a bag full of goodies (and a stomach full of ice cream).
Since the 30-year-old's new Sweetener Foundation ($35) — which comes in 60 (!) shades, BTW — is named after her fourth studio album, Sweetener, the limited-time space is packed with sweet treats, including complimentary ice cream (FYI, the Sweetener Swirl is so decadent with its combination of sesame, cashew, and coconut), a foundation-matching station with a dedicated specialist to help you find your best shade (with the option to buy), and exclusive merch you won't find anywhere else. The sweetest treat of all? The Grammy winner actually explored the space herself.
Though you may not get to see Ari IRL, as her appearance was a surprise ahead of opening day on Thursday, Aug. 30, you could still find plenty of IG- and TikTok-worthy moments in the sweet shop like a hidden photo booth. All you need to do is stand in line (preferably early, since it's free and first-come, first-serve) and just keep breathin' until you can enter the Sweetener pop-up before it closes at the end of the day on Friday, Aug. 31.
Ariana Grande's Sweetener Pop-Up Is Located At A Foodie Fave In NYC
If you have a sweet tooth and frequent the tri-state area, then you may already be familiar with Morgenstern's Finest Ice Cream's flagship parlor. During this limited-time event, the space — located at 88 W Houston St. in NYC's Greenwich Village neighborhood — will forgo its fan-fave burgers and shakes, but continue to serve vegan and non-vegan ice cream and toppings while the pop-up is open.
When Is Ariana Grande's Sweetener Pop-Up Open?
Limited time really means limited time, as the space is only open for two days during the following hours:
Wednesday, Aug. 30 — 12:30 p.m.-7 p.m. EST
Thursday, Aug. 31 — 12:30 p.m.-7 p.m. EST
Remember, it's first-come, first-serve, so make sure to get there early to ensure you make it inside.
Kaitlin Cubria/Elite Daily
Kaitlin Cubria/Elite Daily
Kaitlin Cubria/Elite Daily
The Light Is Coming For The Merch At Ariana Grande's Sweetener Pop-Up
There's so much cute swag at the shop, that it could be hard to pick just one to buy. Fortunately, unlike many celeb-centric pop-ups — which could sell merch up to $3,500!!! — the exclusive items at the Sweetener shop, which feature the designs below, are all $50 and under . Stickers are $2; makeup bags, totes, and ice cream scoopers are $20 each; baseball caps are $25; tees are $30; and sweatshirts are $50.
For more information on Ariana Grande's new r.e.m. beauty launch, visit rembeauty.com.
Shop Ariana Grande's r.e.m. beauty Sweetener Shoppe Pop-Up Look