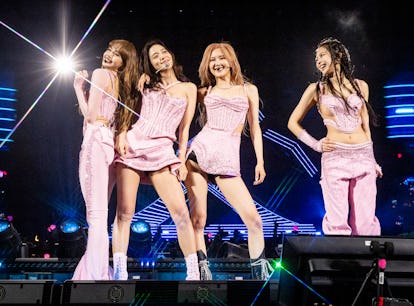 I Went To BLACKPINK's Born Pink Pop-Up & It's Filled With Exclusives
Heaven's gate just opened up, BLINKs.
If you're around New York City this week, then BLACKPINK is finally in your area, BLINKs. Ahead of the K-pop group's Born Pink Encore Tour stop at New Jersey's MetLife Stadium on Saturday, Aug. 12, American Express opened up a new Born Pink pop-up in NYC that's packed with merch that you can wear, carry, and even ride. Since I'm the typa girl who keeps "Pink Venom" on repeat and frequents many a themed experience, I visited BLACKPINK's pop-up shop ahead of the public opening so you can know what to look out for if you decide to check out the space.
Just like with Ed Sheeran's Subtract Experience and Harry Styles' Pleasing pop-ups, Amex put together a limited-time colorful, interactive, and overall stunning hot spot that fans won't want to miss. Not only is there merch exclusive to this particular location, but there's also a *huge* BP-embroidered bear created by Japanese graphic artist Verdy, who served as the artistic director for the pop-up experience, that's incredibly huggable and IG-worthy. If there's one must-stop in the exhibit, it's the photo booth, as there are frames that commemorate the group's seventh anniversary (Aug. 8). All you need to do to get into the free experience is get in line as early as possible.
Whether you're headed to the one-time Coachella headliners' show at MetLife this weekend, or you're just a stan always on the lookout for BLACKPINK newness, here's everything you need to know about the Born Pink pop-up in NYC:
Kaitlin Cubria/Elite Daily
Kaitlin Cubria/Elite Daily
Courtesy of American Express
Courtesy of American Express
Kaitlin Cubria/Elite Daily
Courtesy of American Express
BLACKPINK's Born Pink NYC Pop-Up Shop Is Located In A Popular Spot
Like the first iteration of this pop-up, located near London's Regent's Park earlier this summer, the latest experience also found itself a home in a highly popular location, in the heart of NYC's Chelsea neighborhood at 541 W 25th St, minutes away from the Vessel structure and steps away from the High Line rail trail.
Future locations have yet to be announced, but you can almost guarantee they'll be ahead of at least one more of the group's Encore stops. Los Angeles, perhaps?
When Is BLACKPINK's Born Pink Pop-Up Shop Open?
From now through Saturday, you can find your faves' newest store open to the public every afternoon to early evening during the following hours:
Wednesday, Aug. 9: 1 p.m.-9 p.m. EST
Thursday, Aug. 10: 1 p.m.-9 p.m. EST
Friday, Aug. 11: 11 a.m.-9 p.m. EST
Saturday, Aug. 12: 11 a.m.-7 p.m. EST
If you're an Amex Express card member, then you get the added bonus of being allowed to enter the space a full hour prior to opening each day; that means more time to beat the crowds.
The Merch At BLACKPINK's Born Pink Pop-Up Shop Will Make You The Happiest Girl
There are so many items up for grabs, including dad hats ($50), heart-shaped pillows ($60), hoodies ($140), none of which are available in the BLACKPINK online store. One particular item exclusive to Amex's pop-ups is a $70 tee with Born Pink emblazoned across the back, along with Verdy's custom designs.
There's also a $500 limited-edition bomber jacket and a $3,500 (!) e-bike that debuted for the first time. It's giving Lisa, circa 2021.
Regardless of what you buy, you will leave the space with a complimentary BLACKPINK tote bag, also with Verdy's signature designs, along with a special sticker to customize your new merch. Yeah, yeah, yeah.
For more information on BLACKPINK's Born Pink pop-up experiences, visit www.blackpinkmusic.com/amexpopup.